LANSING — Before last month's campus mass shooting, Michigan State University Police's optional active violence training courses were frequently requested and rarely attended.
According to university documents obtained by Bridge Michigan via a Freedom of Information Act request, an average of 842 persons per year attended "Run, Hide, Fight" training sessions at a school with more than 50,000 students and 13,000 professors and staff members between 2019 and 2022.
According to papers Bridge reviewed, police used the one- to two-hour courses to define active violence and mass shootings, review emergency procedures, and show attendees how to use the university's alert and notification system.
The training session recommended that academics, staff, or students "fight" back as a "last resort." "Throw things, yell and work as a team as possible. Commit to your actions — be aggressive and use improvised weapons."
Such training sessions have been provided by campus police at least since 2017, but few students have shown up.
After a shooter opened fire at Berkey Hall and the MSU Union on February 13, killing three students and injuring five others, administrators intend to make them required for all students, faculty, and employees.
According to MSU Interim President Teresa K. Woodruff earlier this month, it's a component of an initial strategy to "provide more robust security on campus while better preparing our community to respond in these unfortunate situations,"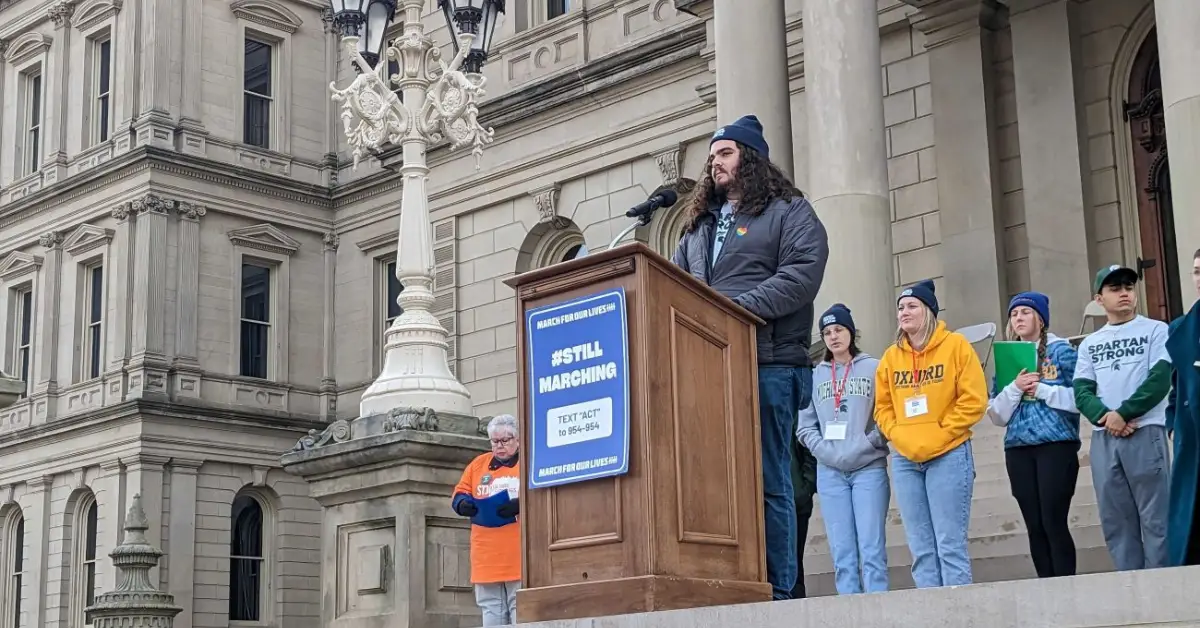 MSU police have provided active violence training seminars upon request from campus groups, organizations, and building administrators, similar to many Michigan colleges.
According to records, the department has held 54 training sessions since 2019, an average of 12 sessions per year through 2022 and an additional seven sessions through the first two and a half months of 2023.
Almost 1,300 students from the Faculty of Osteopathic Medicine participated in a virtual training session in July 2022, which was requested and offered to groups of teachers and staff in most cases.
Between 2019 and 2022, at least 3,368 MSU employees, staff, and students participated in active violence training sessions. Thus far this year, 283 more people have attended training sessions.
According to the data, MSU police held three training sessions in January before the incident on February 13; they included a virtual training for 45 "MSU community" members and an in-person training for 75 student resident assistants.
According to the statistics, 42 people attended three active violence training courses provided by the police at the MSU Union in early 2022. According to police, the shooter entered the Union on foot last month after killing two people and injuring several others at nearby Berkey Hall.
Since 2019, training has not occurred in Berkey Hall or many other academic buildings on campus; nevertheless, Zoom has held several "virtual training sessions," and staff Emergency Response Teams in each campus building have received separate training.
After the incident, MSU police held three workshops on active violence prevention: one for 65 people at the College of Engineering, another for 20 people at James Madison College, and a third for 30 people from the Office of Financial Aid at the nearby Student Services Center.
Students Unaware
Although MSU Police have an online sign-up form and calendar, many students were unaware that the optional training was offered, according to Delaney Jones, president of the MSU freshmen class student council.
"I have never heard that before," and even in post-shooting campus conversations with students and faculty members, "I haven't heard anyone mention that they were aware of those," Jones, 18, told Bridge.
Jones stated that she agrees with the university's decision to require attendance at the training sessions. It would make sense, she continued, to incorporate it into freshman orientation, as students currently receive training on preventing sexual assault and relationship violence as well as Diversity, Inclusion, and Equality.
"This is a serious issue and something that they should be mandating," Jones said.
How MSU will deliver the required training, which Woodruff has pledged to start this fall, is not yet known. Campus police have begun collaborating with the university's IT division to develop a student access solution, according to police spokesman Dana Whyte, who talked to Bridge on Tuesday.
"That's in the beginning stages still," she said.
According to Whyte, any campus club, organization, or building can still request an optional training session in person or electronically in the interim.
With additional security measures, MSU started requiring key cards this month for entry into most buildings on the East Lansing campus after 6 p.m. every day, when fewer employees may be trained in active violence scenarios in different facilities.
According to police, Lansing resident and MSU shooter Anthony McRae, 43, opened fire inside Berkey Hall at 8:18 p.m., shooting students attending a night class through the doorway.
Arielle Diamond Anderson, 19, of Harper Woods, Brian Fraser, 20, of Grosse Pointe Park, and Alexandria Verner, 20, of Clawson, were all killed in the assault.
In addition to expanding its network of more than 2,000 security cameras, which the university is centralizing to enable real-time monitoring, MSU aims to put lock systems in all 1,300 campus classrooms. Woodruff revealed this on March 1.
Few Have Mandatory Training
The proposal would make MSU one of just a few Michigan universities to require active violence training, placing it in an entire company.
The majority of Michigan institutions offer this training, although it is often optional, according to a recent Bridge Michigan study. It is necessary for all new workers and students at some institutions, such as Central Michigan University and Oakland Community College.
Many students who spoke with Bridge after last month's massacre said they hadn't participated in MSU's violence prevention classes. Still, they had experienced comparable training or threats in high school or lower grades and knew roughly how to react.
Some students demanded security enhancements at a town hall last month but voiced concerns that going too far may make the school feel like a prison.
As of now, MSU's planned policy adjustments appear to "nice job finding that balance," said Jones, the freshman class council president. "The key cards update has been a really nice adjustment because it gives people more of that sense of security without having a police presence at every door."
'Trust Your Gut'
MSU police defined active violence as an "ongoing assault with a weapon (not usually a gun) that causes serious harm or death to several victims inside a limited and populated area" in optional training sessions provided this year.
They also provided data on mass shootings that injure or die four or more people.
"In the first few weeks of 2023, at least 69 people have been killed in mass shootings across the country," read a slide from the PowerPoint document Bridge acquired.
Students and professors were instructed to "mentally practice" where they would go in an emergency and to physically walk different evacuation routes during the training sessions. To provide visual instructions for what to do during an active violent situation, police played a "run, hide, fight" film.
Faculty and staff were instructed to "find out" what was going on and then "get out" if they could, leaving their stuff behind, or to "call out" using campus or cell phones to give precise details about the attack's location and strategy.
The training session instructed students to "hide" if running was not an option by staying there, locking or blocking doors, drawing the blinds, and only dialing 911 if they could do so without alerting the gunman to their location.
"DO NOT huddle together with others if it can be avoided," because "groups of people make an easy target for the shooter," the presentation continued.
"Only when your life is in danger should you attempt to disrupt and/or incapacitate the active shooter." 
Continue reading the recent school news articles we publish on this site:
It's uncertain if the training would have had much of an impact on professors or students on February 13.
Before officials had sent their initial alert telling students and professors to run, hide, or fight, the shooter reportedly moved rapidly, starting the fire at Berkey Hall at 8:18 p.m. and then again at the MSU union by 8:26 p.m.
At training sessions, MSU Police explained that "stopping the threat" would be their main priority, treating the injured, getting people out of shelters, securing the crime scene, and speaking with witnesses or victims.
You should "lift your arms," "spread your fingers," and comply with officer instructions when law enforcement officers arrive on the scene, according to the police.
The training session instructed participants to "say something" if they "saw something" alarming, such as "strange, bizarre, or disturbing behavior" by a person, to avoid an active violence situation.
The instruction proceeded, "When in doubt, TRUST YOUR GUT and report a troubling incidence or statement," before presenting additional information and recommendations pertinent to an active violence scenario and asking questions.
Tyler is a passionate journalist with a keen eye for detail and a deep love for uncovering the truth. With years of experience covering a wide range of topics, Tyler has a proven track record of delivering insightful and thought-provoking articles to readers everywhere. Whether it's breaking news, in-depth investigations, or behind-the-scenes looks at the world of politics and entertainment, Tyler has a unique ability to bring a story to life and make it relevant to audiences everywhere. When he's not writing, you can find Tyler exploring new cultures, trying new foods, and soaking up the beauty of the world around him.