Kirin Krafthefer, a sophomore at Michigan State University, was one of the leaders of the nonviolent walkout on Sunday.
She developed a website called Spartan Stronger, which served as the inspiration for the event.
She stated that she blogged about her experience following the campus shooting on February 13 and that she "sort of wanted to open up that platform to other MSU students who may want to share their experiences."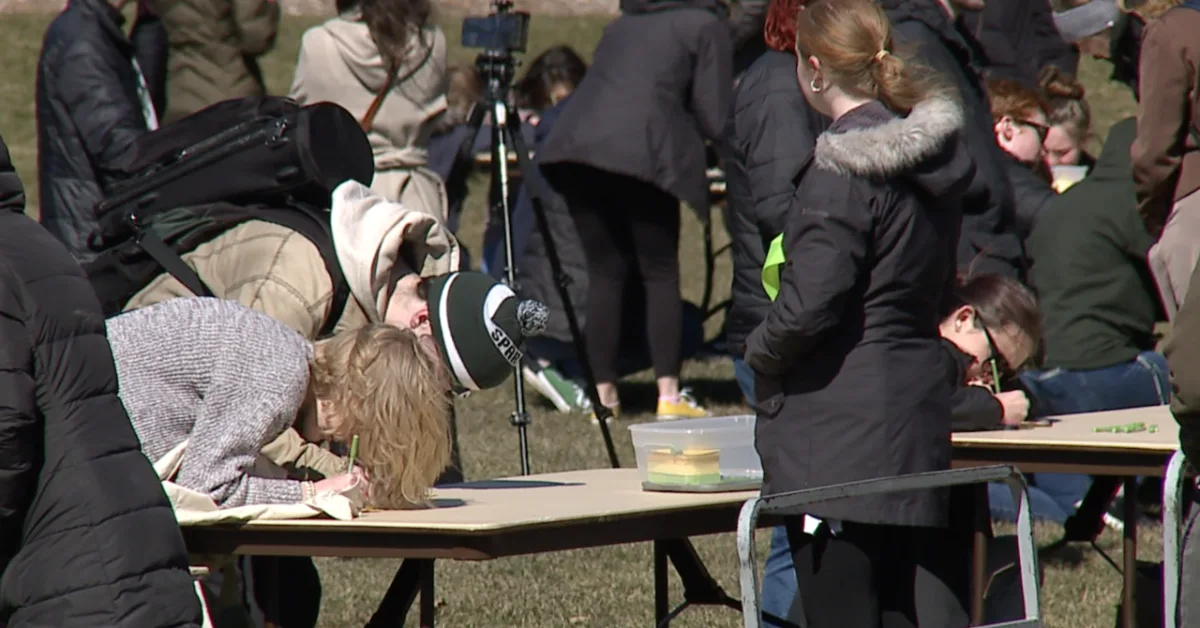 MSU Students Share School Shooting Experiences Through Notecards Displayed At University Museum
It's an idea that was transferred from keyboard and screen to pen and notecard Sunday afternoon, and since then, more children have blogged their stories on the site.
Hannah Greenspan, a co-organizer of the walkout, outlined the instructions for the notecard writing exercise; "It could be something like a detailed description of the day, it could be a single word or an emotion they've been feeling, it could be a poem, it could be a text they sent, it could be whatever they think they're the story of 2/13 is."
The documentation got underway at 2:13 on Sunday in remembrance of the college shooting's anniversary of February 13.
For individuals who would benefit, counselors and emotional support dogs were available.
Several students showed up there to record their unique stories, which will now be included in an exhibit displayed at the museum entrance of MSU.
Read the latest news of school news we are posting:
"Then the student who was there can see that they're not alone," said Greenspan. "They'll see the stories of other Spartans with similar experiences."
According to the student organizers, other kids can send off a notecard with their narrative to be added to a dropbox that will be located near the exhibit.
Every story is significant and should be shared, whether it involves having to barricade themselves in a classroom, seeing a classmate in the hospital, or experiencing the community's support in the following weeks.
Krafthefer said; "We're looking at people who 20 years from now can bring their kids back and hopefully look at their stories in the archives if they want to tell their story."
The notecards will enter the MSU museum archives when the exhibit, which is scheduled for mid-April, ends.
Patricia Gault is a seasoned journalist with years of experience in the industry. She has a passion for uncovering the truth and bringing important stories to light. Patricia has a sharp eye for detail and a talent for making complex issues accessible to a broad audience. Throughout her career, she has demonstrated a commitment to accuracy and impartiality, earning a reputation as a reliable and trusted source of news.