NASHVILLE, Tenn. — After meticulously plotting the slaughter by creating a precise map and keeping watch on the building, a former pupil shot through the doors of a Christian elementary school on Monday, killing three children and three adults, according to police.
The shooting at The Covenant School in Nashville was the most recent in a string of mass shootings that have left the nation increasingly alarmed.
Three 9-year-old kids, the head of the school, a replacement teacher, and a custodian were among the victims. A recognizable pattern emerged amidst the chaos: distraught parents went to the school to check their children's safety and gave them heartfelt hugs.
At the same time, the shocked neighborhood organized vigils for the deaths.
"I was literally moved to tears to see this and the kids as they were being ushered out of the building,"
John Drake, the chief of the Metropolitan Nashville Police Department, said at one of the numerous press conferences.
The gender of the shooter, who authorities said was fatally shot by two responding cops at the school, was not made apparent by the police. Police had been identifying the gunman as a 28-year-old woman for hours before finally naming her Audrey Hale.
The police chief later revealed that Hale was transsexual during a late-afternoon press conference. Don Aaron, a police spokeswoman after the press conference, declined to provide more detail on Hale's present identification.
When pressed by reporters for a specific reason, Drake remained mum but provided horrifying examples of the shooter's earlier preparation for the deliberate attack.
"We have a manifesto, we have some writings that we're going over that pertain to this date, the actual incident," he said. "We have a map of how this was all going to take place."
Investigators think Hale may have harbored "some resentment for having to attend that school," he said in an interview with NBC News.
According to a later tweet from police, the shooter entered the building by shooting at its glass doors, shattering them.
Authorities claimed that the shooter was equipped with two "assault-style" weapons in addition to a handgun. According to the chief, at least two of them were thought to have been legally acquired in the Nashville region.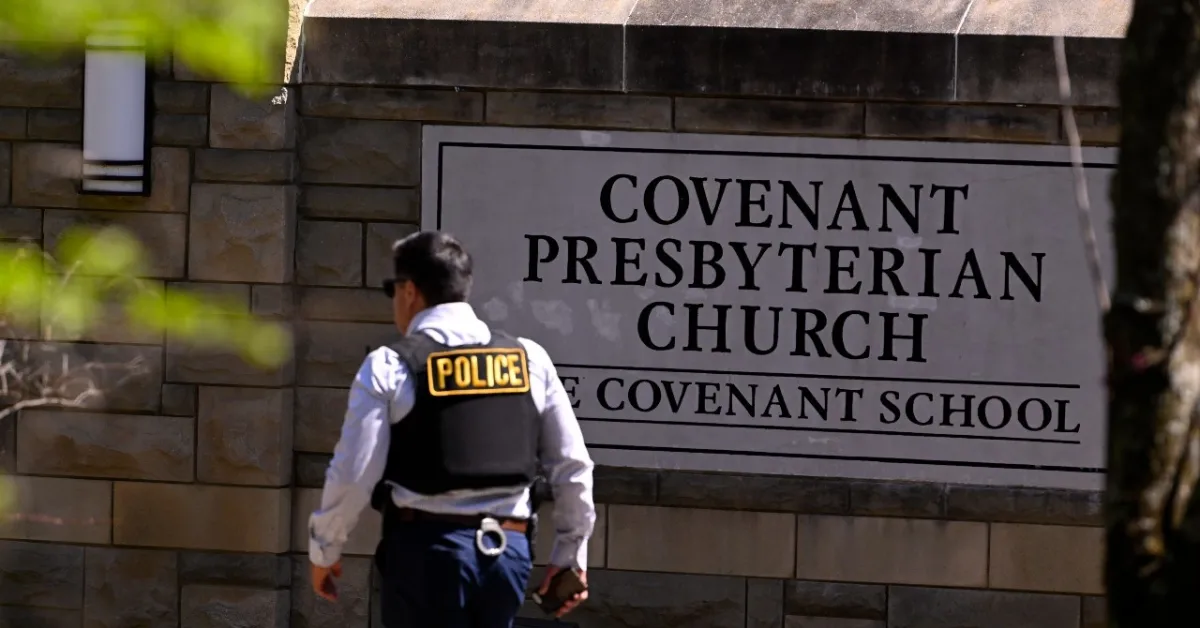 A sawed-off shotgun, a second shotgun, and other unidentified evidence were found during the search of the shooter's home, according to police.
Evelyn Dieckhaus, Hallie Scruggs, and William Kinney, all 9 years old, and adults Cynthia Peak, 61, Katherine Koonce, 60, and Mike Hill, 61, were named the victims.
The Covenant School, a Protestant institution established in 2001, identifies Katherine Koonce as its head of school on its website.
She is listed as the school's principal on her LinkedIn profile as of July 2016. Investigators determined that Hill worked as a custodian and that Peak was a substitute teacher.
Kids walked to school buses while holding hands, and the buses took them to a local church where they were reunited with their parents.
When parents discovered their children, Rachel Dibble, who was present, described the scenario as everyone being in "complete shock."
"People were involuntarily trembling," remarked Dibble, a Nashville resident whose kids attend a different private school. "The children … started their morning in their cute little uniforms, they probably had some Froot Loops and now their whole lives changed today."
Communities around the United States have seen numerous mass killings in recent years, with school shootings, especially traumatic.
The shooting at an elementary school in Uvalde, Texas, last year; a Virginia first-grader who shot his teacher; and a shooting last week in Denver that injured two administrators are recent tragedies that have affected the nation.
On Monday at the White House, President Joe Biden described the shooting as "a family's greatest nightmare" and begged Congress to ban certain semi-automatic weapons again.
"It's ripping at the soul of this nation, ripping at the very soul of this nation," Biden said.
Biden later ordered the U.S. flag to be flown at half-staff on all federal buildings through March 31. Obama also spoke to Tennessee Gov. Bill Lee and Nashville Mayor John Cooper about the shooting, officials said.
The Covenant School is situated in the affluent Green Hills neighborhood just south of downtown Nashville, which is home to the renowned Bluebird Café, a place typically favored by musicians and songwriters.
The Covenant Presbyterian Church, which was founded as a ministry of The Covenant School, is affiliated with the conservative evangelical Presbyterian Church in America.
The school has about 50 staff members and 200 students in grades preschool through six.
"Our community is heartbroken," a statement from the school said. "We are grieving tremendous loss and are in shock coming out of the terror that shattered our school and church. We are focused on loving our students, our families, our faculty and staff and beginning the process of healing."
According to a database by The Associated Press, USA Today, and Northeastern University in collaboration, there have been seven mass killings at K–12 schools since 2006 in which four or more persons were killed within 24 hours. The shooters were men in each one.
The database does not include school shootings in which less than four people were murdered, which have become significantly more regular in recent years. For instance, two days after one another, school shootings occurred just last week in the Dallas and Denver areas.
The catastrophe on Monday lasted about 14 minutes. At 10:13 a.m., police received the first contact reporting an active shooter.
When officers heard gunshots coming from the second level of the school, they started clearing the first story, according to Aaron, during a news briefing.
Later, according to a tweet from police, the gunman had arrived with a large amount of ammo and had fired shots at the approaching officers from a window on the second floor.
An active shooter event has taken place at Covenant School, Covenant Presbyterian Church, on Burton Hills Dr. The shooter was engaged by MNPD and is dead. Student reunification with parents is at Woodmont Baptist Church, 2100 Woodmont Blvd. pic.twitter.com/vO8p9cj3vx

— Metro Nashville PD (@MNPDNashville) March 27, 2023
At 10:27 a.m., Aaron said a five-person team of officers responded by opening fire. Two of the officers were able to shoot the suspect fatally. One of the officers received an injured hand from broken glass.
Almost two minutes of edited security footage of the shooter's automobile approaching the school from several perspectives—including one in which kids can be seen swinging in the background—was made available by the police late Monday night.
A view from inside the school shows glass doors being shot out and the shooter ducking through one of the broken doors.
Another video from inside the building reveals the gunman passing through a school hallway while carrying a weapon with a large barrel, entering a space marked "church office," and exciting again.
The shooter can be seen walking down a further lengthy corridor with his revolver pulled in the latter segment of the video. The footage has no sound and doesn't show the gunman communicating with anyone else.
Because the school is run by a church, according to Aaron, no police officers were present or assigned to it at the time of the shooting.
You read the related articles in the school news we publish on this site:
Jozen Reodica could hear the fire and police sirens from her adjacent office building. She pulled out her phone and started recording the mayhem as her building went into lockdown.
"I thought I would just see this on TV," she said. "And right now, it's real."
Nashville has experienced its fair share of violent incidents in recent years.
One such incident occurred on Christmas Day 2020 when a recreational vehicle was deliberately set ablaze in the center of Music City's historic downtown, killing the bomber and injuring three others while forcing the closure of more than 60 businesses.
A reeling city held some vigils Monday night. At Belmont United Methodist Church, sobs of sadness could be heard in the background as people sang, prayed, and lighted candles during the vigil.
We confess we have not done enough to protect" the children hurt or killed in shootings was a line they repeated as they lamented the nation's cycle of violent and deadly shootings.
"We need to step back. We need to breathe. We need to grieve," said Paul Purdue, the church's senior pastor. "We need to remember. We need to make space for others who are grieving. We need to hear the cries of our neighbors."
Patricia Gault is a seasoned journalist with years of experience in the industry. She has a passion for uncovering the truth and bringing important stories to light. Patricia has a sharp eye for detail and a talent for making complex issues accessible to a broad audience. Throughout her career, she has demonstrated a commitment to accuracy and impartiality, earning a reputation as a reliable and trusted source of news.