NEW YORK — On Thursday, students at the Nebraska State Capitol urged lawmakers to end efforts to pass a "permitless" concealed carry law and called for action on gun safety.
Huskers Against Gun Violence, Students Demand Action, and Nebraskans Against Gun Violence all linked Thursday's press conference to National Walkout Day on March 14, 2018.
Five years ago, on that day, over 3,000 students exited their classrooms at institutions from coast to coast, including those in Nebraska's North Platte and Omaha.
Due to the massacre at Marjory Stoneman Douglas High School in Parkland, Florida, on February 14, 2018, which left 17 people dead, students demanded action.
"Today, five years after students walked out of their schools, we walked into this Capitol building to demand that our legislators turn away from the extreme policies of NRA executives and prioritize common sense gun laws," said 18-year-old Jayden Speed.
"We must prioritize saving lives, not more guns. We cannot look away from this crisis."
National Epidemic
Speed, who formed the Students Demand Action branch in Nebraska, claimed that during those walkouts in 2018, when he was just 13 years old, he first became active in the fight against gun violence.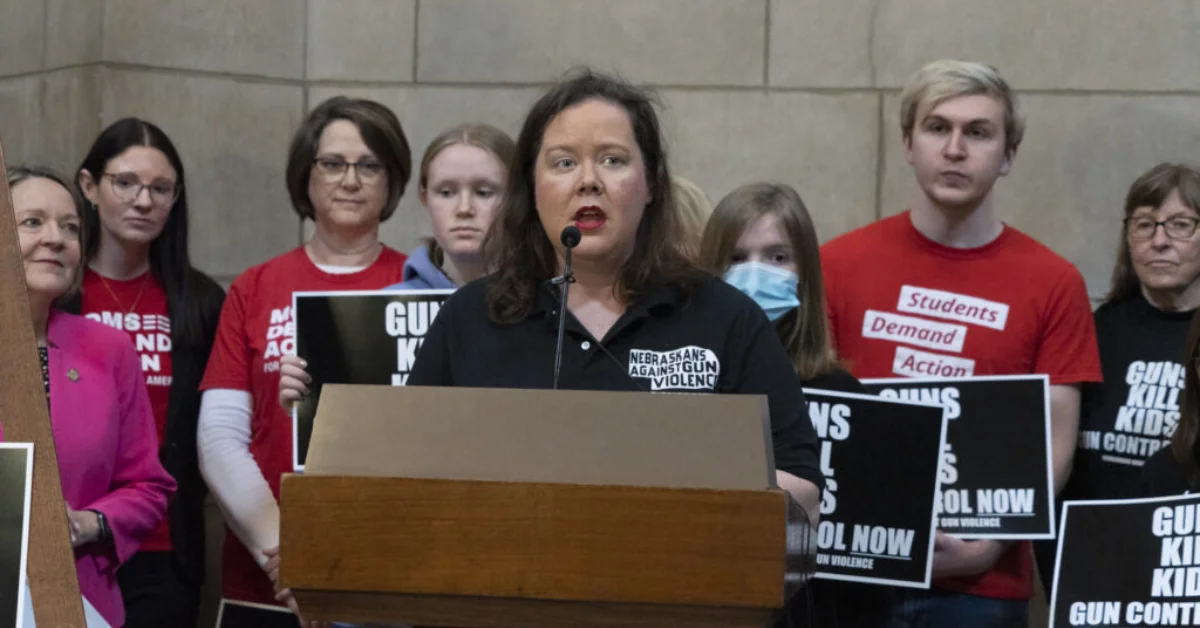 "Many of us were shaken by the very idea that our schools were a target in the national epidemic of gun violence," Speed said.
Since she was "weary of feeling powerless again," according to Simone Hill, she started Huskers Against Gun Violence. Hill left in 2018 and stated on Thursday that it is more important than ever to support the voices of young people.
The executive director of Nebraskans Against Gun Violence, Melody Vaccaro, Speed Hill, and others stated that gun violence is currently the most significant cause of mortality for children. Before 2020, fatal car accidents were the leading cause of death.
After the killing in Uvalde, Texas, Congress approved the Bipartisan Safer Communities Act, the first significant gun control law in nearly 30 years. Yet, according to Vaccaro, more must be done, including in Nebraska.
Vaccaro claimed that due to the limited amount of laws that can be passed this session, senators are prioritizing legislation like State Senator Tom Brewer's (D-Gordon) Legislative Bill 77.
"It is ghoulish. It is monstrous," Vaccaro said. "And the children of Nebraska, the children of the United States, we all deserve better."
Freshman Senator Vows To Fight
Brewer's long-fought campaign to pass permitless concealed carry, LB 77, became the focal point of the news conference on Thursday. On March 3, the first of the bill's three mandatory debates was completed.
Brewer said his legislation would "clean up the laws" to make it easier for people to defend their families, businesses, and themselves.
The eight-hour-long filibuster against LB 77 was headed by state senator Jane Raybould of Lincoln, who said citizens must insist that their senators reject Brewer's legislation because it would make weapons more accessible.
Instead, Raybould declared supporting her proposed LB 482, the Suicide Risk Protection Order Act. The law would enable a judge to intervene when a person is a threat to themselves or others, has access to a firearm, and has made violent threats.
Similar regulations, commonly called "red flag" laws, exist in at least 19 states. The Judiciary Committee on February 10 discussed the measure; nevertheless, nothing has changed.
"You are the greatest advocates in the world to help educate my fellow state senators on how important this issue [is], how important it is to the future of our state of Nebraska," Raybould told students Thursday.
Senators' "heads in the sand and dismissing the facts" regarding how students feel about their safety, Raybould continued, is unacceptable.
"We have to do more than what we're doing now," Raybould said.
Unsafe At School
La-Nayia Robinson, a junior at Lincoln High School, claimed that she attended several schools where security measures against gun violence had to be implemented.
"Children shouldn't be so scared of something that shouldn't be an issue for them," La-Nayia said.
Omaha fifth-grader Leah Nelson claimed she fears going to school every day because she believes a threat resembling the exercises her school does could exist.
Leah argued that fifth graders like her shouldn't have to worry about shootings in general or how to escape the building in the event of one.
"I feel unsafe at school sometimes," Leah said. "I feel like it's unreasonable and just scary."
According to Laura Roberts, an elementary school teacher in Lincoln, students do inquire about school shootings when they happen.
According to Roberts, every time there is a safety drill, she spends the rest of the day trying to calm down her elementary kids, finding it impossible to complete any work "because everyone is so frightened out."
"The kids are not OK, and we should not be OK with this situation," she said.
Itty bitty faces
In an effort to persuade senators to recognize the "humanity" in what they're doing, Maghie Miller-Jenkins claimed she had visited the Legislature numerous times this session.
Check out more latest articles we've published:
"There shouldn't be a market for safety vests for children going to elementary school," Miller-Jenkins said. "I shouldn't worry about telling my 5-year-old that she needs to be prepared to hide under a desk for any reason other than tornado drills."
Miller-Jenkins claimed that the only exercises she participated in growing up in the 1980s were those for fires and tornadoes.
At less Miller-Jenkins, the daughter of Miller-Jenkins, clung to her mother's leg while she spoke before being lifted:
"[Legislators] need to look at these itty bitty faces because these little itty bitty faces are the faces on memorials. These itty bitty faces are the faces parents must be left remembering because they can only identify their children by their shoes," Miller-Jenkins said.
"Your thoughts and prayers mean nothing," she said, "because we're still burying babies."
Patricia Gault is a seasoned journalist with years of experience in the industry. She has a passion for uncovering the truth and bringing important stories to light. Patricia has a sharp eye for detail and a talent for making complex issues accessible to a broad audience. Throughout her career, she has demonstrated a commitment to accuracy and impartiality, earning a reputation as a reliable and trusted source of news.