As students return from spring break next week, there will be at least one police officer stationed on the campuses of thirteen Denver high schools, a police department official confirmed on Friday.
It falls far short of the number specified in the Denver school board's recent directive to station up to two police officers at each high school for the rest of the academic year. After a student shot and wounded two deans at East High School on March 22, that order was given.
The school board's 2020 policy prohibiting school resource officers, or SROs, from attending Denver schools was suspended the next day.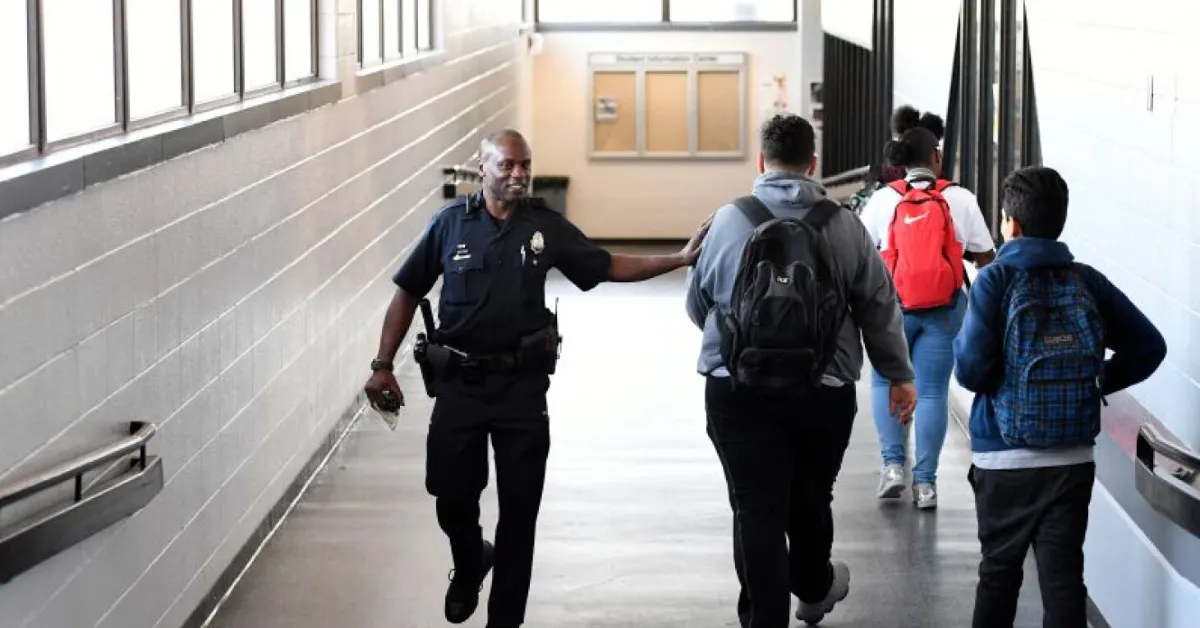 Two SROs will be present at East High, the largest school in the district with 2,500 pupils when classes resume on Tuesday. The police department said an additional 12 high school campuses would each have one officer for 14 SROs.
According to student enrollment, the campuses are:
DSST: Green Valley Ranch High School is one of the five schools on the Evie Dennis Campus, with a total enrollment of over 2,000 pupils.
Northfield High, 1,870 students
South High, 1,840 students
North High, 1,600 students
Thomas Jefferson High, 1,320 students
George Washington High, 1,265 students
Montbello High, 1,100 students
Dr. Martin Luther King, Jr. Early College, 1,050 students
Abraham Lincoln High, 980 students
John F. Kennedy High, 790 students
West High, 640 students
Manual High, 320 students
According to Doug Schepman, a spokesperson for the Denver Police Department, eight of the 14 officers had previously served as SROs in Denver, though not all of them had that responsibility in 2020 when the school board decided to withdraw police from classrooms.
During a year, SROs were gradually phased out of Denver's schools, with the final police leaving in June 2021.
But, this year has seen a surge in youth violence. Luis Garcia, a 16-year-old East High student who was shot in February in his car outside the school, passed away from his wounds.
Police Plan And Board Memo Differ
The school board gave less direction on March 23, the day following the massacre at East High than the plan for 14 SROs.
In a memorandum, The board instructed Superintendent Alex Marrero to "offer and externally fund as many as two armed police officers and as many as two additional mental health professionals" at all Denver high schools for the remainder of the school year, which is scheduled to end in early June. This was done in a memo to Mayor Michael Hancock.
There are more than 50 high schools in Denver Public Schools. Twenty of them are independent charter schools run by separate boards of directors. There are some tiny schools for kids who have had difficulty in other settings or are in danger of leaving out.
The president of the school board, Xóchitl "Sochi" Gaytán, declined to comment on the contradiction between the board's directive and what will occur the following week.
Gaytán stated through text message that "there's no board work going right now" because this week is DPS's spring break.
It's also unclear whether the board's directive to send two more mental health specialists to high schools the following week would be carried out. Because district employees are on spring break, according to school district spokesperson Scott Pribble, he could not respond to that query.
SROs Will Have The Same Duties As Before
But, Pribble did provide a message about police in schools that was claimed to be from Marrero.
"I am not worried about the city of Denver and the Denver Police Department's willingness and ability to provide SROs in our comprehensive high schools once students return from spring break," it says. "I have been given assurances by Mayor Hancock and [Police] Chief [Ron] Thomas that they will be able to support the safety of our scholars for the remainder of this year and I look forward to continued discussions to allow our students to be safe in our schools."
According to spokesman Schepman, the police department fully covers the cost of placing police officers inside schools. This is distinct from the former system, in which the expense of SROs was divided between DPS and the police department.
DPS paid $720,000 for half of the cost of 18 SROs stationed at specific middle and high schools throughout the 2019–20 academic year.
The 14 SROs who will be stationed at schools starting the following week will adhere to the same rules and carry out the same responsibilities as SROs did in 2020, according to Schepman.
In the past, an intergovernmental agreement describing those responsibilities existed between DPS and the police force.
According to the 2018–19 academic year agreement, SROs are expected to recognize the difference between disciplinary and criminal issues, act accordingly, and de-escalate situations whenever possible.
Schepman said that while reassigning 14 officers to be SROs "does pull officers away from typical patrol duties, the department is constantly adjusting the deployment of resources based on data, trends and needs, and adjusting to having SROs in schools is no different."
Focus On Deliberations, Not Plan
This week, there has been a lot of discussion about the school board's behind-the-scenes debates rather than the specifics of the proposed plan, which has received less attention.
Auon'tai Anderson, vice president of the school board, suggested during a press conference on Monday that the mayor had coerced the board's hand.
Before a March 23 executive discussion behind closed doors, Anderson claimed Marrero informed him and Gaytán that Hancock "had an executive order ready to be drafted and declare a public health emergency … to deploy school resource officers back to schools." 
"The decision that you saw was one, responding to the moment, but also preserving the institution of the school board," Anderson said. "We cannot be a school district where the mayor of Denver is signing executive orders to overhaul our duly elected school board."
Continue reading the school news articles we posted:
Hancock's administration has refuted the claim that the mayor had an executive order ready. But, Marrero revealed to The Denver Post on Thursday that he and Hancock discussed an executive order to reinstate police in schools in the wake of the East killing.
According to a copy of the memo obtained by Chalkbeat, board President Gaytán wrote Anderson a note two days after Anderson's press conference, stating, among other things, that Anderson had broken board rules by disclosing details discussed in the board's executive session on March 23. Executive session conversations are intended to remain private.
"Specifically, naming the Mayor's private communication with the Superintendent regarding the creation of an Executive Order to address school safety," the memo alleges.
The email states that the district's legal counsel will examine the accusations and recommend which should be brought forward for a board meeting open to the public.
When an inquiry revealed that Anderson had flirty communication with kids on social media, the board criticized him for breaching board member norms in 2021.
Patricia Gault is a seasoned journalist with years of experience in the industry. She has a passion for uncovering the truth and bringing important stories to light. Patricia has a sharp eye for detail and a talent for making complex issues accessible to a broad audience. Throughout her career, she has demonstrated a commitment to accuracy and impartiality, earning a reputation as a reliable and trusted source of news.