Tory Lanez was supposed to be sentenced on Monday for sh00ting fellow musician Megan Thee Stallion in 2020, but the hearing was delayed until Tuesday.
Lanez, whose legal name is Daystar Peterson, was found guilty of three felonies in the sh00ting that injured Megan Thee Stallion and left bullet fragments in her feet in December 2022.
The sentencing will bring to a close a divisive three-year dispute that raged on in court, on the artists' social media, and on hip-hop gossip blogs.
Prosecutors had requested that Lanez be sentenced to 13 years in jail for the offense, as well as a following "campaign of misinformation" undertaken through hip-hop blogs and music in order to undermine Megan Thee Stallion's credibility. Lanez's defense team had requested probation and a residential drug treatment program to assist the artist in dealing with alcoholism, which they claim he developed in order to cope with childhood trauma.
Megan Thee Stallion claimed in a written statement read out during the sentencing hearing that she has suffered every day since she was shot. "I haven't had a single day of peace since the defendant viciously shot me," she added. "I'm slowly but steadily healing and regaining my strength, but I'll never be the same."
She requested that her absence not be interpreted as apathy, stating that she "couldn't bring myself to be in a room with Tory again." She begged Judge David Herriford to impose a harsh punishment.
Sonstar Peterson, Lanez's father, made an impassioned statement about his son losing his mother when he was 11 years old. "I don't think anyone ever forgets that. However, music became his outlet."
The elder Peterson also apologized to Judge Herriford for his heated speech outside the courthouse following Lanez's conviction in the December sh00ting. "I want to apologize personally to you," he told the judge. "It was an overwhelming time."
Peterson was one of several persons who spoke out about Lanez's reputation and charity contributions. One of the others was a chaplain at the Los Angeles County Jail, where Lanez has been waiting for his sentence for nearly nine months. Lanez, according to the chaplain, has led regular prayer sessions that have helped to reduce tensions in the protective custody facility where he has been confined.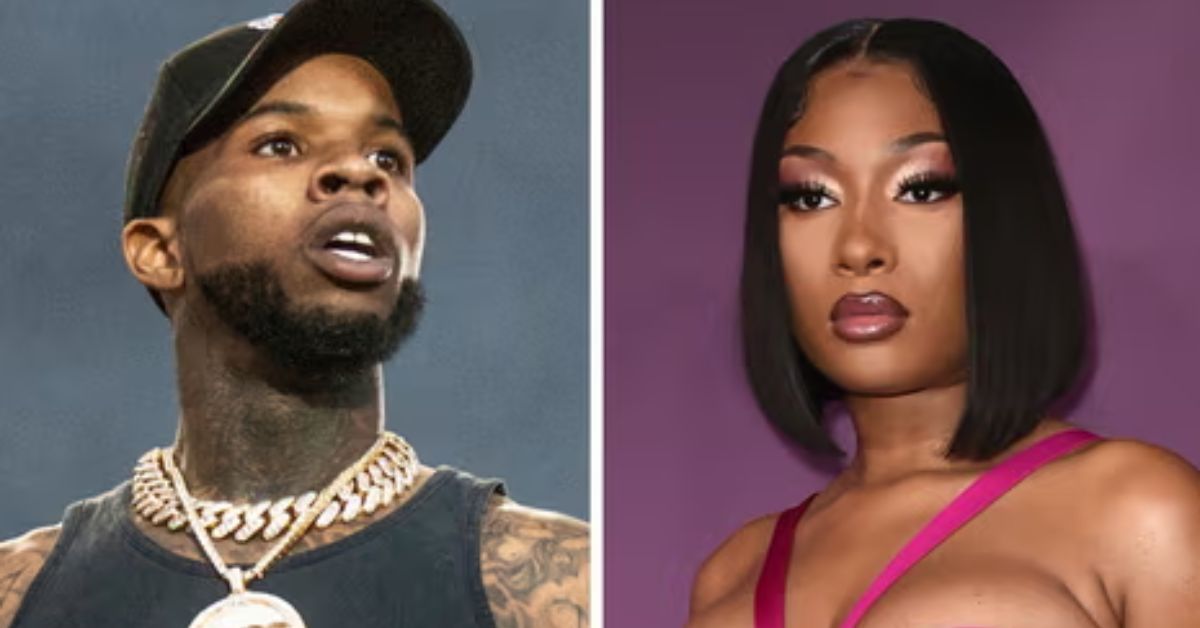 Hundreds more addressed letters to Judge Herriford, including the mother of Lanez's small kid, who praised him as a parent, and artist Iggy Azalea, who urged the judge to impose a sentence that was "transformative, not life-destroying."
Prosecutors claimed it started on July 12, 2020, with a modest pool party at Kylie Jenner's Hollywood Hills residence. Megan Pete, aka Megan Thee Stallion, arrived at the house a few hours before Lanez. The duo and Kelsey Harris and Lanez's security officer drove away in a black SUV to drop Megan Thee Stallion and Harris off at their rented property.
According to authorities, a disagreement between the performers erupted during the trip. Lanez's bodyguard pulled over on a quiet street in the hills when Megan Thee Stallion exited the vehicle. Lanez allegedly pulled out a revolver and fired it toward the ground in her direction as she moved away from the automobile.
Lanez's defense counsel, George Mgdesyan, maintained during the trial that Harris was the one who shot Megan Thee Stallion after Lanez confessed that he and Megan Thee Stallion were intimately linked.
The incident generated headlines and fuelled weeks of speculation, but it wasn't until Megan Thee Stallion revealed on Instagram Live on 20 August 2020 that Lanez had shot her.
Lanez has maintained his innocence, accusing Megan Thee Stallion of lying about being shot and her Roc Nation management team of attempting to frame him.
Megan Thee Stallion has categorically denied any romantic relationship with Lanez, including during a high-profile interview with Gayle King. She did testify that the two were romantically involved after connecting over their mothers' deaths.
A Tweet posted by the official account of Meghann Cunifft:-
Asked after court if he had a message for Megan Thee Stallion, Deputy District Attorney Alex Bott said, "We just appreciate her being as strong as she is, and this is going to be over very soon."

My article on has all his comments, with video. https://t.co/bqSQzkWvpk

— Meghann Cuniff (@meghanncuniff) June 13, 2023
Megan Thee Stallion told the jury throughout the trial that she initially lied out of embarrassment and that she was disgusted to have "shared her body with someone who would shoot her."
"I don't wanna be on this Earth," she stated at one point during her day-long statement. "I wish he'd shot and killed me if I'd known I'd have to go through this torture."
The jury deliberated for one day before convicting the 30-year-old Canadian rapper of assault with a semiautomatic firearm, possession of a loaded, unregistered firearm in a vehicle, and gross carelessness in the discharge of a firearm.
Lanez has maintained his innocence since his incarceration, through appeals, and now in a 41-page sentencing document. Lanez's counsel have claimed that his alcoholism was a part in his behavior.
Megan Thee Stallion has slowly made her way back into the public eye in recent months, and she hasn't spoken publicly about Lanez or the photo since an April interview with Elle Magazine.
"I view myself as a survivor, because I have truly survived the unimaginable. Not only did I survive being shot by someone I trusted and considered a close friend, but I overcame the public humiliation of having my name and reputation dragged through the mud by that individual for the entire world to see," she explained to Elle.
Lanez and Megan Thee Stallion's attorneys did not respond to a request for comment.
Tyler is a passionate journalist with a keen eye for detail and a deep love for uncovering the truth. With years of experience covering a wide range of topics, Tyler has a proven track record of delivering insightful and thought-provoking articles to readers everywhere. Whether it's breaking news, in-depth investigations, or behind-the-scenes looks at the world of politics and entertainment, Tyler has a unique ability to bring a story to life and make it relevant to audiences everywhere. When he's not writing, you can find Tyler exploring new cultures, trying new foods, and soaking up the beauty of the world around him.