Manuel and Patricia Oliver had been on the road for more than a week when they pulled into a city park in Uvalde, Texas, with their school bus draped in an American flag. They had no idea how many people would greet them on that hot day.
Then the families began to arrive. Parents, grandparents, siblings, and other relatives of some of the 22 individuals ki!!ed at Robb Elementary last year poured into the park, hugging the Olivers and each other. A mother who lost her daughter in a school sh00ting in Santa Fe, Texas, where ten people were slain in 2018, felt the same way.
The Olivers had come halfway across the country to Uvalde with their own story: Joaquin, the couple's son, was one of the 17 individuals ki!!ed five years ago at Marjory Stoneman Douglas High School in Parkland, Fla.
The Olivers traveled to Texas one day last month in search of individuals who understood what their lives had become and could collaborate with them to prevent such tragedies from occurring again.
"I'm looking to help and to be helped," Mr. Oliver explained. "We are all aware that we exist. What if we start planning everything together? "What if we help each other?"
As mass sh00tings continue to erupt in schools, malls, and entertainment venues around the country, an increasing number of families have become entwined by unimaginable anguish. They have shared advice and tears with other parents from previous sh00tings in late-night phone conversations and in-person reunions, knowing that no one else can understand what it is like to lose a kid in such a horrific and public manner.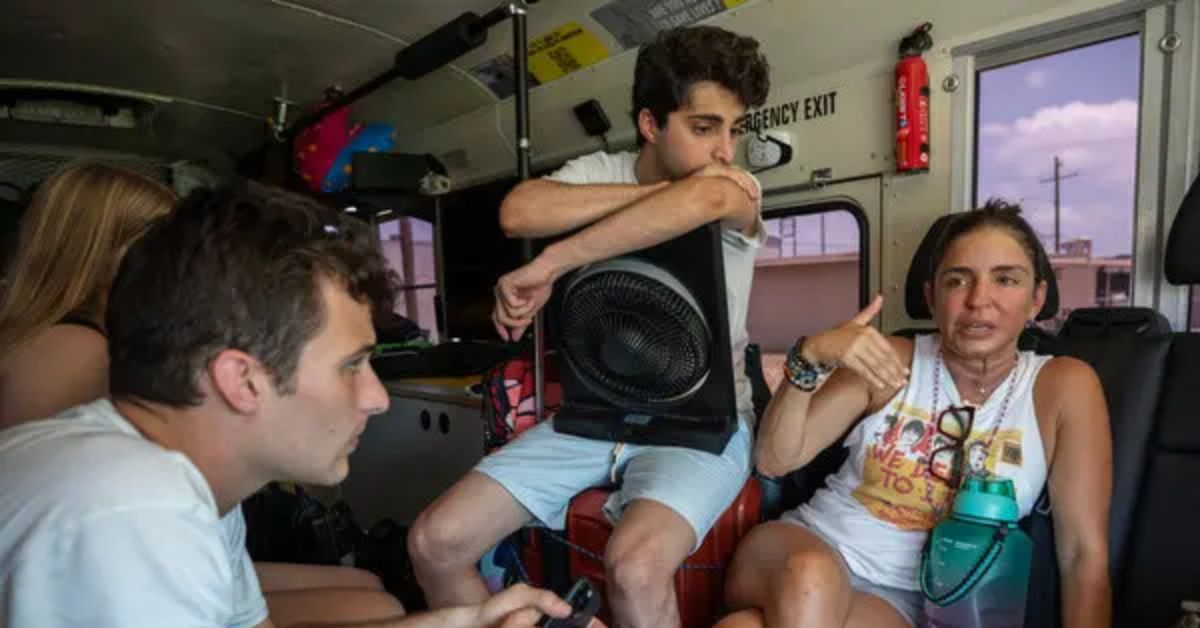 Rhonda Hart, a Santa Fe mother, attended the Uvalde gathering last month since several of the family members present are now among her closest friends. They are all members of "the worst club imaginable," according to her.
The Olivers set out in a modified school bus this summer to travel the country, pausing to honor victims in a dozen spots that had gained heartbreaking renown. Littleton, Colorado (13 killed in 1999), Aurora, Colorado (12 died in 2012), Charleston, South Carolina (nine killed in 2015), Orlando, Fla. (49 killed in 2016), Las Vegas (58 killed in 2017), and Nashville (six killed this year) are among them.
In the coming weeks, they will visit Newtown, Conn. (where 26 people were slain in 2012), the United Nations in New York, and the Capitol in Washington. Change the Ref, the couple's NGO is funding the initiative.
Ms. Oliver said they were spurred on the journey partly because their son, Joaquin, had been an activist on topics ranging from gun violence to prejudice as they arrived in Uvalde with temperatures topping 100 degrees.
Sam Schwartz, sitting next to her on the bus and whose cousin, Alex Schachter, was also ki!!ed at Parkland, noticed that there had been hundreds of incidents involving four or more people in the eight days since the bus tour began on July 3.
Families are increasingly pushing for change from every angle. The Olivers put up booths to market bulletproof jackets to expose the ridiculousness of gun violence in the United States. They also staged a sit-in at Congress. They debuted a bobblehead doll cursing the National Rifle Association at Comic-Con and created a children's board book titled "Joaquin's First School Shooting" with two holes drilled through each page. The Olivers also employed AI technology to create a film where their late son appears and delivers a message about gun violence. Mr. Oliver was detained in March after he disrupted a House Republican-called committee meeting to defend Second Amendment rights.
Joaquin, a 17-year-old who wrote poetry and played basketball, was slain outside his creative writing class at Parkland when a 19-year-old gunman with an AR-15-style rifle opened fire in the hallways and classrooms.
If you're interested in reading about the recent news, you can check out the below links:-
Surviving Parkland students organized a "March for Our Lives" campaign to pressure federal politicians to act. According to the Olivers, the road tour extended previous efforts.
The day in Texas began in Austin, where the group urged lawmakers to act. Following a three-hour drive to Uvalde, they visited memorials across the city, leaving rocks painted by Florida families.
Brett Cross, the uncle, and guardian of one of the Uvalde fatalities, 10-year-old Uziyah Garcia, boarded the bus and directed it through town. On a laptop, one volunteer edited video clips during the trip. Another was in charge of organizing an upcoming event in Chicago.
Ms. Oliver was sending images to friends and family back home. The bus hit a bump, and Cameron Kasky, a former Parkland student who helped organize the March for Our Lives, braced himself against a stack of boxes containing anti-N.R.A. bobbleheads.
Mr. Cross expressed gratitude for the opportunity to gather.
"It's family," Mr. Cross said. "It's a family that I never wanted. I hate that we know each other this way. But I'm glad that I have them."
Families from Parkland and Santa Fe spoke to the gathering and assembled news cameras at the park event, imploring people not affected by the tragedy to do the same. Ms. Hart encouraged people to vote.
The bus's TV screen displayed photographs and footage of several children killed in Uvalde. Their family members joined the other families in speaking out. Lexi Rubio's mother, Kim Rubio, pondered why their children's photographs were insufficient to effect essential changes. Layla Salazar's grandfather, Vincent Salazar, stated that youngsters were afraid to attend school. Maite Rodriguez's mother, Ana Rodriguez advocated for an assault rifle ban.
"We never thought it would happen to us," Julissa Cazares Rizo, the aunt of another Uvalde victim, Jacklyn Cazares, said. Don't even think for a second that it won't happen to you."
Many of the families communicate almost every day. Mr. Cross's wife, Nikki, has become close to Ms. Hart, seeking advice on managing tributes, presents, and information requests.
"It's not just that," Ms. Cross said to Ms. Hart. "You advised me on what to expect on our first anniversary."
Ms. Hart came to Uvalde that May day and stood by Ms. Cross as she handled the memorial festivities. Well-wishers continued to surround families at the last gathering, and Ms. Hart served as a middleman, shepherding Ms. Cross out while handling the numerous tokens and gifts that others had brought. They have remained supportive of one another.
"I hate that I know them in the way that I do," Ms Hart said. "I wish they were cool people that I just came across, like we met in quilting class or scrapbook club."
As the park began to clear at the end of the bus trip event, the Olivers and their party packed their possessions again, dismantled the sound system, removed an awning, and reloaded the tools, paint cans, and cameras into the bus.
Please stay connected with us on blhsnews.com for more articles and recent news.
Tyler is a passionate journalist with a keen eye for detail and a deep love for uncovering the truth. With years of experience covering a wide range of topics, Tyler has a proven track record of delivering insightful and thought-provoking articles to readers everywhere. Whether it's breaking news, in-depth investigations, or behind-the-scenes looks at the world of politics and entertainment, Tyler has a unique ability to bring a story to life and make it relevant to audiences everywhere. When he's not writing, you can find Tyler exploring new cultures, trying new foods, and soaking up the beauty of the world around him.