Va. — According to court documents made public on Tuesday, prosecutors in the Virginia city where a 6-year-old shot his teacher in an elementary school classroom is looking into whether any school personnel' "actions or omissions" could result in criminal charges.
The petition for a special grand jury to investigate any "security failures" that may have contributed to the shooting at Richneck Elementary in January that left teacher Abby Zwerner critically injured was filed by Howard Gwynn, the commonwealth's attorney in Newport News.
In his article, Gwynn stated that recommendations could come out of an investigation "in the hopes that such a situation never occurs again."
A day after his office charged the boy's mother with felony child neglect and a misdemeanor count of endangering a child by negligently storing a firearm, Gwynn's petition was made public.
The youngster shot Zwerner with his mother's 9mm handgun. The weapon, according to the police, was legally bought.
Zwerner sued the school system for $40 million last week, alleging gross negligence and failure to act upon numerous warnings from teachers and other staff members that the student had brought a gun to school on the day of the shooting.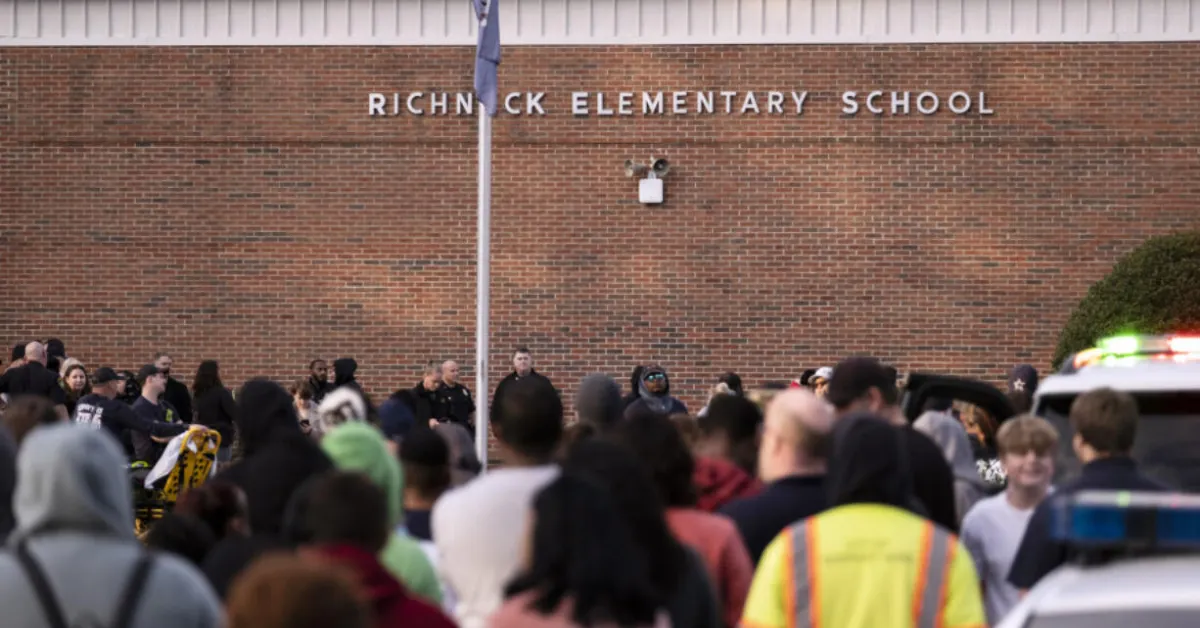 In addition, Zwerner claims that school administrators were aware of the boy's "history of random violence" both at school and at home, including the fact that he "strangled and choked" his kindergarten teacher.
"Our lawsuit makes clear that we believe the school division violated state law, and we are pursuing this in civil court," Zwerner's attorney, Diane Toscano, stated on Monday.
The most recent repercussion of the shooting, which shocked Newport News, a shipbuilding city of about 185,000 people close to the Chesapeake Bay, is the prosecutor's decision to look into school employees for any criminal activity.
Days after the shooting, school officials disclosed that Richneck administrators believed the kid might have a weapon, but they searched his backpack and didn't turn up anything.
Parents and educators berated administrators, claiming that there should be harsher penalties for students who assault faculty and staff and that Zwerner's shooting could have been avoided if not for a toxic environment where teachers' concerns are dismissed.
Although they are uncommon, experts said that this is not the first school shooting to prompt a criminal investigation into school administrators. Even though civil lawsuits are much more frequent, they are not always successful.
Authorities in Florida, for instance, charged a former school resource officer with hiding during the 2018 Parkland school shooting.
Due to his failure to enter the building during the rampage that claimed the lives of 17, Scot Peterson was accused of negligence. Peterson has claimed that he did his best; his trial is set to begin the following month.
The families of the Parkland victims, the majority of the injured, and other parties settled a negligence lawsuit for $25 million in 2021 with the Broward County school district.
In 2021, a prosecutor in Michigan criticized Oxford High for allowing a teen to remain on campus before he killed four students and promised to conduct an investigation to see if any school officials should be held accountable. No school personnel has been put on trial.
Regarding the shooting in Oxford, a civil lawsuit was filed. However, a judge ruled that school employees and administrators are immune from lawsuits and disqualified Oxford Community Schools from claims under the doctrine of sovereign immunity.
A federal judge dismissed all but one of the lawsuits filed against the school district and sheriff's office following the Columbine High School shooting in 1999, concluding that the shooters were to blame.
A $1.5 million settlement was reached in the lawsuit brought by the daughter of a teacher who bled to the death against the Jefferson County Sheriff's Office.
Several parents in Uvalde, Texas, filed a federal lawsuit against the school district, the school principal, the ousted school police chief, and others after a shooter at Robb Elementary School shot and killed 19 pupils and two instructors in May.
Over 400 cops arrived at the incident, but they didn't engage the shooter for more than an hour, drawing harsh criticism for the police reaction. It is still in court.
Chuck Vergon, an expert in education law and policy at the University of Michigan-Flint, said it is unusual for a teacher or other school employee to face criminal charges in connection with a school shooting because it can be challenging to establish criminal negligence.
He asserted that victims of school shootings more frequently seek compensation from school administrators in civil court.
Check out more content of school news we posted on this site:
Since Parkland, hundreds of new school safety measures have been introduced, and Vergon, who has been researching school shootings and responsibility for almost seven years, believes that the rise in school shootings could result in more civil lawsuits to hold school administrators accountable.
"Those laws begin to make more explicit the duties of schools and school districts in terms of preparing for and hopefully preventing or minimizing school shootings," Vergon said.
The district's superintendent was dismissed by the school board following the shooting in Newport News, and Richneck's assistant principal resigned. The principal of the elementary school is no longer in that position but is still employed by the district.
The mother of the 6-year-old, according to her attorney James Ellenson, has no prior convictions and will surrender by the end of the week. Ellenson remained silent regarding the allegations, however, he did claim that her trigger-locked rifle was kept inside her wardrobe on the top shelf.
According to the boy's family, he has an "acute handicap," and his daily transportation to school was part of his care plan. The week of the shooting marked the first time he had attended class without a parent, according to the family.
Newport News Public Schools spokeswoman Michelle Price declined to comment.
Tyler is a passionate journalist with a keen eye for detail and a deep love for uncovering the truth. With years of experience covering a wide range of topics, Tyler has a proven track record of delivering insightful and thought-provoking articles to readers everywhere. Whether it's breaking news, in-depth investigations, or behind-the-scenes looks at the world of politics and entertainment, Tyler has a unique ability to bring a story to life and make it relevant to audiences everywhere. When he's not writing, you can find Tyler exploring new cultures, trying new foods, and soaking up the beauty of the world around him.