A 17-year-old girl testified on Friday that she "just prayed" and covered her head during Ethan Crumbley's mass sh00ting at Michigan's Oxford High School in 2021, which resulted in four deαths and seven injuries.
Heidi Allen stated during a hearing to determine if Crumbley should spend the remainder of his life in pr!son without the possibility of parole, "I didn't know if those were my last moments."
As Allen recounted the harrowing day she assisted a wounded classmate, Crumbley, wearing an orange jumpsuit and black-rimmed glasses, regarded the defense table from behind his orange jumpsuit.
During the emotional second day of the inquest, two students and an assistant principal described meeting the shooter face-to-face.
In October, Crumbley pled guilty to one count of terrorism, resulting in deαth, four counts of first-degree m*rder, and 19 additional offenses related to the mass sh00ting.
Allen testified that she observed the gunman emerge from a restroom as she rounded a corner in a school corridor. Allen stated that even though he wore a black suit, a hat, and a disguise, she knew who he was. She stated that they had attended school together since middle school.
"At that moment, a million thoughts ran through my mind, but I knew precisely who it was. "At the same time, I thought it was impossible that it was him," Allen testified.
"Everything kind of slowed down for me," she said, before covering her head and falling to the ground.
"It was very peaceful. There were no screams whatsoever. It was only the gunfire."
Allen perceived that the gunman was approaching.
"I just closed my eyes and eventually I realized he was gone," she said calmly during her testimony while several family members of victims cried in the courtroom.
Two nearby female students were on the floor. Another girl in the hallway had fallen to her knees.
"I asked everybody in the hallway from where I was if anybody had been hit," Allen testified. "And nobody had answered because they couldn't."
Only Phoebe Arthur, who was standing with her partner, was present. Arthur was in tears. Allen assisted her in standing and searched for a vacant classroom. Once inside, Allen secured the door with the night lock.
Allen prayed with a fellow student. She recalled believing that she would be left unharmed in the hallway.
"I asked her if she knew who God was and she had said, 'Not really.' But I said, 'I think I'm supposed to be here right now because there's no other reason that I'm okay, that I'm in this hallway, completely untouched.'"

Arthur endured. As they exited the classroom, Allen turned Arthur's back on the carnage to prevent her from reliving the terror.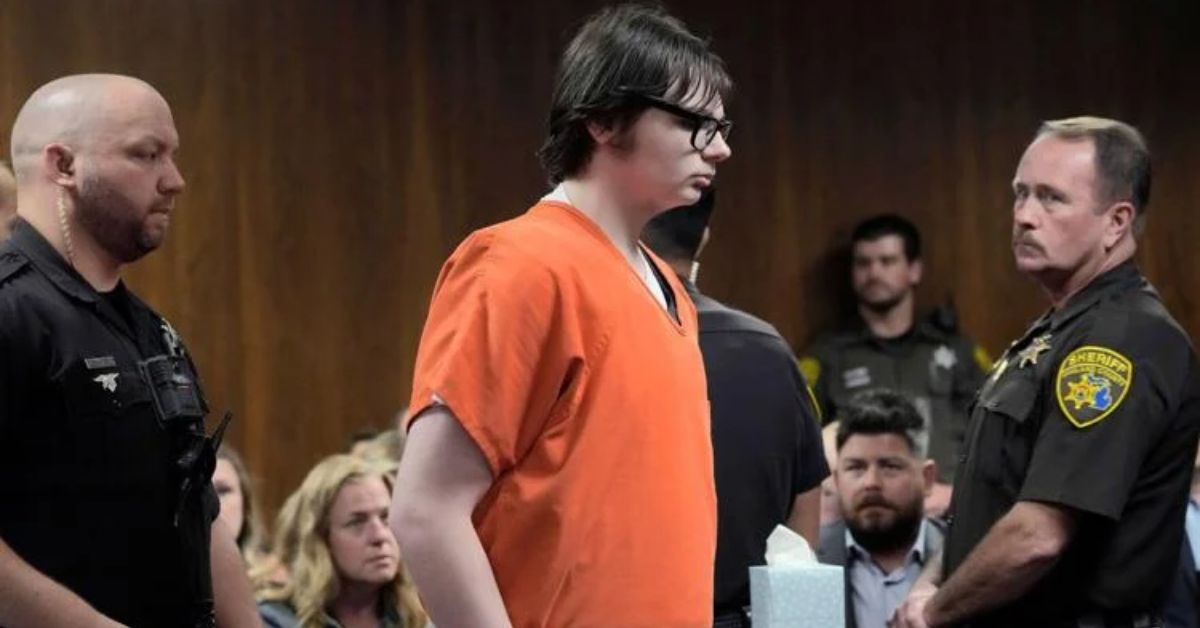 'I JUST WATCHED HIM KILL SOMEONE'
Keegan Gregory, who was 16 years old and a freshman at the time of the shooting, testified on Friday that he survived the massacre while a classmate sheltered in a restroom with him was fatally shot a few feet away.
Gregory and Justin Shilling, seniors at the time, hid in a restroom cubicle until Crumbley knocked in and discovered them. Shilling had requested that Gregory hide with him and ascend on the toilet so the shooter could not see Gregory's feet. Shilling stood in front of the stall's underclassman.
Gregory sent frantic messages to his family's group communication while hiding.
"IM HIDING IN THE BATHROOM," reads one text.
He then dashed off a string of one-word texts: "OMG … HELP … MOM."
His father wrote back, urging him to stay down, quiet and calm.
He replied: "IM TERRIFIED"
At one point, Crumbley kicked open the door to the stall. He left briefly and then returned. The shooter told Gregory to stay put and ordered Shilling out of the stall. Gregory testified that he heard a gunshot.
To his family, he wrote: "HE KILLED HIM. OMFG."
The shooter returned to the stall and told Gregory to come out, motioning for him to stand near the pool of blood around Shilling's head.
"When he moved the gun away from his side I ran behind his back and out the door," Gregory testified. "I realized that if I stayed I was going to die."
Gregory managed to reach an office safely.
"I JUST WATCHED HIM KILL SOMEONE. HE PUT ME UP AGAINST THE WALL AND I RAN."
Gregory displayed a tattoo on his forearm that displayed the date of the shooting in Roman numerals and four hearts, one for each victim. One crimson heart with a halo above it represents the Shilling.
"If he didn't die in there," Gregory said, "then I'd be dead right now."
The defense did not cross-examine the student witnesses.
'His name's Ethan'
Assistant Principal Kristy Gibson-Marshall recounted to the court her efforts to save Tate Myre, who was mortally shot in the back of the head on the date in question.
Gibson-Marshall testified that she approached the sound of gunfire after hearing an announcement for the confinement procedure.
"In my mind, I needed to go help," she explained.
The shooter was a former pupil at the elementary school where Gibson-Marshall previously worked. She remembered giving him embraces as a child, but she hadn't had much interaction with him since he entered high school.
The assistant principal called Crumbley by his first name in court, occasionally peering at the defense table with teary eyes and a slight smile.
Gibson-Marshall testified that she witnessed the shooter walking down a hallway and Myre's corpse lying in a pool of blood.
As Crumbley approached her, she did not immediately suspect he was the gunman. She believed he had possibly recovered the weapon from the actual gunman.
She testified that she questioned Crumbley's well-being. He walked past her while a pistol was held to his skull.
The administrator's focus shifted to Myre. She testified that a bullet had struck the back of his skull and exited through his eye socket.
She spoke to him until assistance arrived, unsure of whether he could hear her. She told him she adored him and needed him "to hang out with me."
Gibson-Marshall recalled with emotions, "I just needed to save him for his mother," adding that she had known him and his family for years.
Myre's visage had turned blue as Gibson-Marshall frantically attempted to perform rescue breathing.
"I was able to taste his blood. There was so much blood that I was covered in it. "It took me months, if not nearly a year, to get the taste of Tate's blood out of my mouth," she explained.
Crumbley surrendered to police in an adjacent hallway. Gibson-Marshall overheard an officer request that the shooter identify himself.
"His name is Ethan," she said to the officers before returning to Myre.
Gibson-Marshall hugged Myre's sobbing parents as she exited the courtroom.
Later that day, Crumbley's defense team summoned their first witness, Dr. Kenneth Romanowski, a pr!sons expert who reviewed Crumbley's Oakland County Jail records.
He testified that he did not interview Crumbley and had never met him.
According to jail records, Crumbley repeatedly banged his head into the door of his detention cell and hit his head against the cell wall earlier this year, the corrections expert stated.
Romanowski stated that due to their lack of maturity and development, juvenile offenders frequently have a better chance of being reformed in prison.
"Everyone has the ability to change," Romanowski stated. "He has to make that choice."
During cross-examination, prosecutor David Williams asked the defense expert if he knew Crumbley shot victims at point-blank range.
The expert, who was only entrusted by the defense with studying the shooter's jail records, testified he did not know how the victims were slain or Crumbley's violent writings and behaviors prior to the shooting.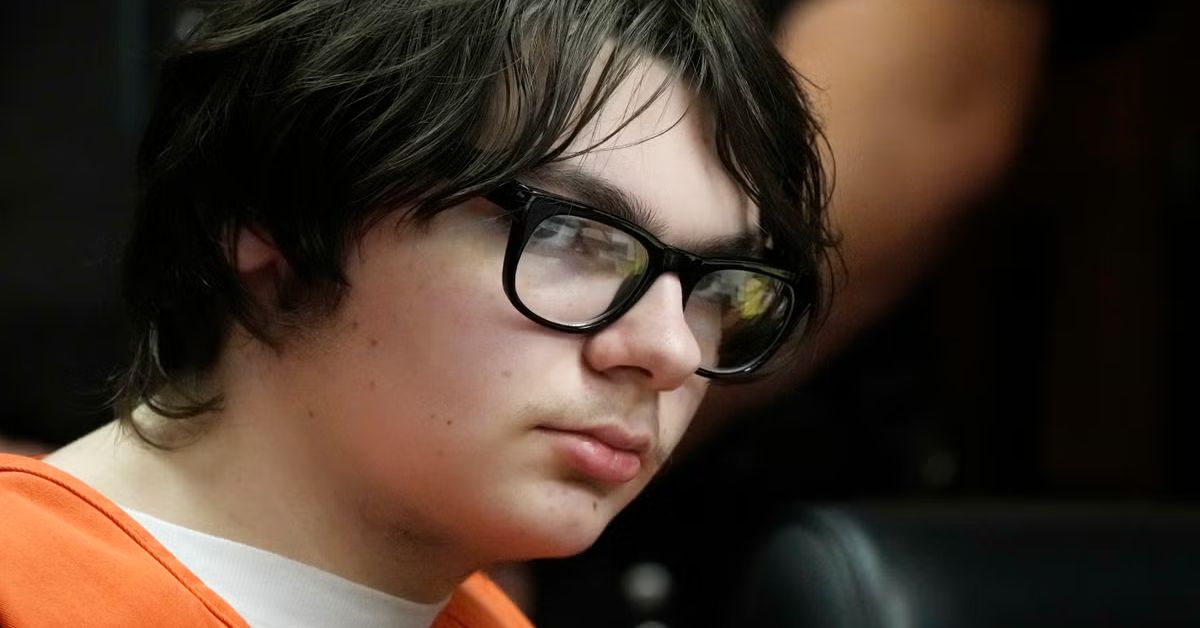 A jail psychiatrist, Dr. Fariha Qadir, testified that she diagnosed Crumbley with significant depression and adjustment disorder with anxiety. She prescribed him antidepressants and mood stabilizers.
Crumbley has claimed hearing internal voices and experiencing anxiety and paranoia, but he has not been labeled as psychotic, according to her.
According to Qadir, he has been on constant monitoring for most of his sentence, and at times, on su*cide watch.
'I am going to be the next school shooter'
The testimony comes one day after contentious exchanges between a gunshot victim and the defense attorney cross-examining her, as well as the introduction by prosecutors of audio from two video clips Crumbley recorded before his high school spree when he was 15 years old.
"My name is Ethan Crumbley, age 15, and I am going to be the next school shooter," he is heard stating on the recording that was played in court. "I've given this a lot of thought. I can't get it out of my head. But it's always on my mind."
As the recording played, Crumbley stared down at the defense table.
Crumbley remarked in the second audio file played at the hearing, "I'm gonna have so much fun tomorrow."
Crumbley discussed the degeneration of his life and carefully sketched out his lethal plan during the recordings.
"I will walk behind someone, and I will shoot a bullet into their skull. And that's the first victim," he said. "I'm gonna open fire on everyone in the hallway … I will try to hit as many people as I can. I will reload, and I will find people hiding. I want to teach them a lesson of how they are wrong, of how they are being brainwashed."

On Thursday, Oakland County Prosecutor Karen McDonald told the court that Crumbley's deliberate approach before the shooting and his penchant for violence are among the reasons he should be sentenced to life in pr!son.
Crumbley's attorney, Paulette Loftin, stated that the defense will demonstrate that Crumbley is not "irreparably corrupt" and that he should be sentenced to years in jail.
Lt. Timothy Willis of the Oakland County Sheriff's Office oversaw the sh00ting investigation and was the first prosecution witness. Crumbley, he testified, circumvented device security and viewed a violent website on a jail computer tablet in January.
According to the lieutenant, when investigators uncovered the search history, which Crumbley had attempted to remove from the device, the kid said he couldn't "resist" visiting the site he'd frequented before the shooting.
Till Then, keep yourself updated with all the latest news from our website blhsnews.com.
Tyler is a passionate journalist with a keen eye for detail and a deep love for uncovering the truth. With years of experience covering a wide range of topics, Tyler has a proven track record of delivering insightful and thought-provoking articles to readers everywhere. Whether it's breaking news, in-depth investigations, or behind-the-scenes looks at the world of politics and entertainment, Tyler has a unique ability to bring a story to life and make it relevant to audiences everywhere. When he's not writing, you can find Tyler exploring new cultures, trying new foods, and soaking up the beauty of the world around him.