Authorities have identified five persons murd*red in Monday's deαdly sh00ting in Philadelphia.
According to a news release from the Philadelphia Police Department, the victims are Daujan Brown, 15, Lashyd Merritt, 20, Dymir Stanton, 29, Joseph Wamah, Jr., 31, and Ralph Moralis, 59.
The injured, described as two and thirteen-year-old boys, were "in stable condition," Philadelphia Police Commissioner Danielle M. Outlaw said at a news conference Monday. According to police, they were both shot in the legs. Shattering glass injured two additional persons, including a 2-year-old boy.
Merritt was on his way out for a snack during a break from work when he was fatally sh0t, according to his mother, Marie Merritt, who talked with 6abc following the ki!!ing.
"All the stuff that goes on in Philadelphia," she explained. "He wasn't a part of that. The violence, he wasn't part of that. So young and so bright."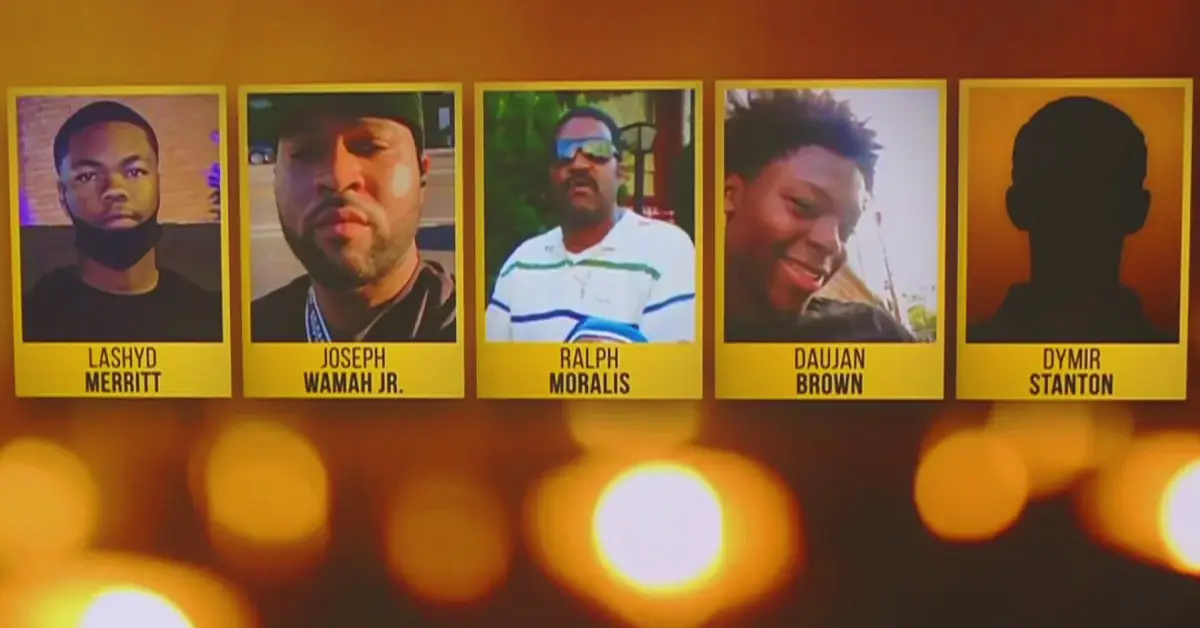 Nashaya Thomas, Daujan Brown's mother, also spoke out about what happened to her son. Thomas told NBC Philadelphia that Brown was assisting an injured 13-year-old companion when he was struck and murd*red by gunshots.
"He was just trying to get his friend help not knowing that bullets don't have no name," she explained.
According to NBC News, authorities said a bulletproof vest shooter opened fire in the Kingsessing neighborhood of Southwest Philadelphia shortly before 8:30 p.m. Monday. Authorities believe the incident was premeditated.
You can also read additional news articles we've written about on our site, including:-
According to the police release, officers discovered multiple sh00ting victims "along an extensive scene."
Six people were carried to a local hospital, where four were confirmed deαd. A fifth sh00ting victim was discovered in the same neighborhood shortly after midnight. A short time later, medics pronounced him deαd.
According to Outlaw, officers grabbed the man in an alley as shots were still fired. The suspect also carried a semi-automatic rifle, a handgun, a police scanner, and many ammo magazines.
Police identified the suspect as Kimbrady Carriker, 40, who was charged Wednesday with m*rder, aggravated assault, possession of a weapon of crime, simple assault, reckless endangerment, and a firearms infraction.
A Tweet posted by the official account of TODAY. You can also find out more information about Victims of the Devastating Philadelphia Mass Sh00ting Identified by reading the below tweet:-
Police have arrested the suspect in a mass shooting in Philadelphia that left five people dead and two injured.

Meanwhile, devastated family members of the victims are speaking out. @GeorgeSolis reports. pic.twitter.com/QSVm3whLi0

— TODAY (@TODAYshow) July 5, 2023
Whether the suspect has entered a plea or appointed, an attorney to speak on their behalf is unknown.
Another individual was detained, but authorities aren't sure what their alleged link to the suspected sh00ter is.
Police think that all those who were shot were either on the street or in automobiles, and they are currently looking for a motive because there is no apparent connection between the suspect and the victims.
"All we know is that this person decided to leave their home and target individuals," said Outlaw at the conference.
Philadelphia Mayor Jim Kenney said he is "outraged that mass shootings like this continue to happen across the U.S."
"I'm heartbroken for the families who lost loved ones and for all the neighbors traumatized in the wake of this shocking and disturbing incident," Kenney writes in a tweet. "Philadelphia mourns with you."
I am outraged that mass shootings like this continue to happen across the U.S.

I'm heartbroken for the families who lost loved ones and for all the neighbors traumatized in the wake of this shocking and disturbing incident. Philadelphia mourns with you. https://t.co/IbE9pwyMkY

— Mayor Jim Kenney (@PhillyMayor) July 4, 2023
Till Then, keep yourself updated with all the latest news from our website blhsnews.com.
Tyler is a passionate journalist with a keen eye for detail and a deep love for uncovering the truth. With years of experience covering a wide range of topics, Tyler has a proven track record of delivering insightful and thought-provoking articles to readers everywhere. Whether it's breaking news, in-depth investigations, or behind-the-scenes looks at the world of politics and entertainment, Tyler has a unique ability to bring a story to life and make it relevant to audiences everywhere. When he's not writing, you can find Tyler exploring new cultures, trying new foods, and soaking up the beauty of the world around him.