The head of Wayland Public Schools says that the town, school committee, and school district have mistreated him because of his race.
Dr. Omar Easy sent the complaint to the Massachusetts Commission Against Discrimination on Friday, the first person of color to be in charge of schools in Wayland.
The complaint says that the Wayland School Committee, Wayland Public Schools, the Town of Wayland, School Committee Chair Chris Ryan and School Committee Vice Chair Ellen Grieco all discriminated against the person who filed the complaint.
In Easy's complaint, he listed several times when he had been treated in a racist way since he became superintendent of Wayland Public Schools in July 2021.
One of these things happened in December 2022, when racist graffiti about Easy was written on the grounds of Wayland High School. The Massachusetts Association of School Superintendents said something about it, and Wayland police called the Anti-Defamation League.
In his complaint, Easy said, "This is not the first time explicitly racist behavior has targeted me, Black employees, and Black students in Wayland," "This kind of behavior is the peak of a hostile work environment that the Wayland School Committee, and especially Chair Chris Ryan and Vice Chair Ellen Grieco, have created and fueled.
"The School Committee is aware of a complaint filed with the Massachusetts Commission Against Discrimination by Wayland Public Schools Superintendent Dr. Omar Easy. As this is a pending legal matter, we cannot comment on the specific allegations," the Wayland School Committee said in a statement released Saturday.
"However, the School Committee wishes to reiterate that the Wayland Public Schools seeks to foster a welcoming, inclusive, anti-racist environment; our actions have and will continue to demonstrate a commitment to those principles. We are asking the members of our school community for their patience during this time."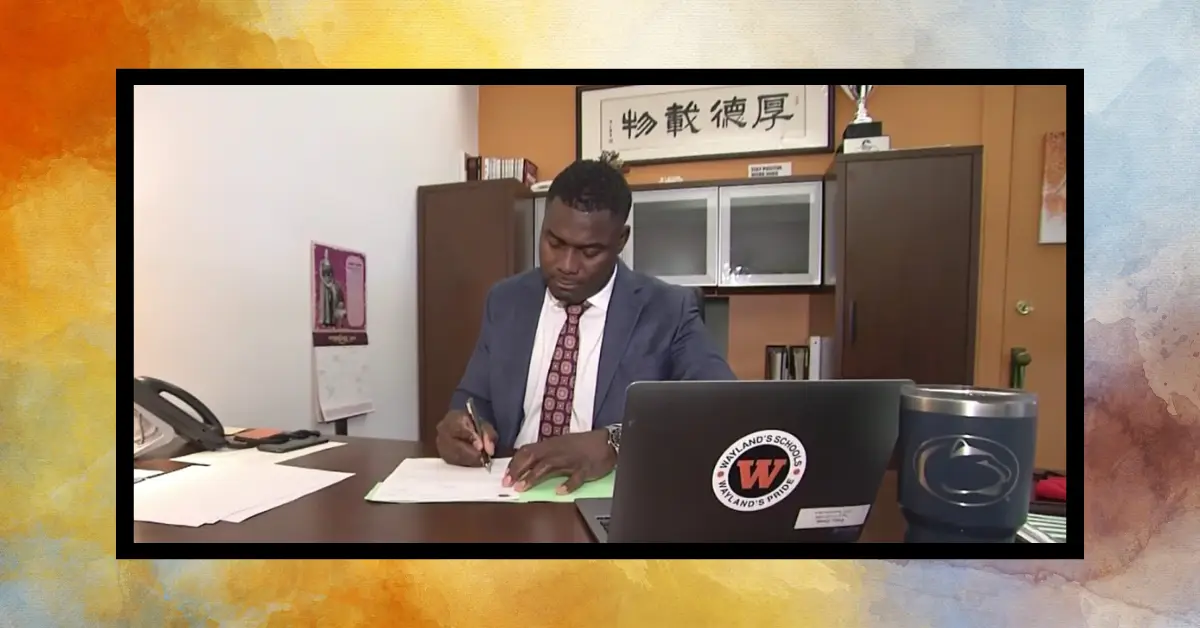 Two days after Easy said he was put on leave as superintendent of Wayland Public Schools for no reason, the complaint was filed. Easy said he was on leave on Wednesday, less than three weeks after he wrote to the School Committee about the illegal behavior.
Check out some of the most recent trending articles:
The Patch says that the Wayland School Committee emailed parents and staff about Easy's leave. The Patch said that on November 10, 2022, Easy went to an open meeting where the School Committee was going to vote on whether to suspend him, while an outside investigator looked into a meeting in October 2022 where Easy was accused of "berating, shaming, and bullying" school district staff.
In his complaint about racial discrimination, Easy said that on Oct. 13, 2022, he gave a talk about teacher-on-teacher harassment and brought up a case in which a white teacher at Wayland High School had mistreated a Black teacher.
Easy said that during the presentation, he asked his fellow senior administrators to live by Wayland's stated values, such as not being racist.
"Angry about my efforts to eradicate unlawful discrimination, several white members of the Administrative Council complained to the School Committee after that, alleging — without specifics — that I had 'attacked' and 'intimidated' several participants at the meeting, seeking further to portray me as a big angry Black man," Easy wrote in his complaint.
At the end of that November meeting, the committee decided to keep Easy on the job while they looked into his behavior. Easy, now 45, was an All-American running back at Everett High School.
He went on to play for Penn State University in college and spent four years in the NFL. He then went to Penn State and got a Ph.D. in educational leadership.
The Patch said that in a message to Wayland parents and staff, the School Committee said that Wayland Public Schools' assistant superintendent, Parry Graham, would be the acting superintendent.
On the other hand, the Massachusetts Lincoln Public Schools district has already said that Graham will take over as superintendent on July 1.
If you believe this is interesting, please discuss it with the other people you know. Visit blhsnews.com for the most recent news and updates regarding famous people.