A generation of youngsters who were traumatized by school shootings is haunted by it in college. America's newest mass shooting, until the next one, added a new college to the list of traumatized schools. Michigan State joins Virginia Tech, Northern Illinois, and Virginia.
Students fled. People smashed windows to save students from gunmen. After their cellphones buzzed with a "shots fired" notification from the campus police, students barricaded themselves in dorms, created barricades in the library, cowered in bathrooms, or escaped for their lives.
Another city, another cycle of abrupt death. On the eve of the fifth anniversary of the Marjory Stoneman Douglas High School massacre in Parkland, Florida, on Valentine's Day 2018, three students were killed and five injured at Michigan State University. The 15th anniversary of a Northern Illinois University mass shooting that killed five people was Tuesday.
Check out more related articles:
The day brought the same useless rage about the complex politics of gun control and split among Americans about firearms that mean nothing will be done even after more tragic murders. Mass shootings are terrible. The loss of young life is very painful.
Everyone is 'terrified'
Parents worry about whether their children will fit in, suffer academically, or fall prey to drinking or drugs in college. Mass shootings now concern them. Can a country that can't guarantee school safety suddenly guarantee college safety?
"They are terrified, their parents are terrified," After meeting survivors and family members from Michigan State, her district, Democratic Rep. Elissa Slotkin told CNN on Tuesday. "It's terrorizing and we either do something about something that is terrorizing our population, or we don't care about it."
Attorney General Dana Nessel told CNN that when she put her kids off at Michigan State a year-and-a-half ago, she thought, "It is going to be a miracle if we get these kids through four years of college without some sort of an incident like this taking place because they happen so frequently."
"And unfortunately, as it turned out, the answer is no," Nessel said. "We couldn't get our kids through college without subjecting them to a mass shooting at their school."
Thankfully, most American college students avoid such a dreadful experience. They won't avoid the fear a shooting causes. False alarms regarding active shooters or campus safety cause terror in many. A teenage Parkland survivor advised grieving Michigan State Spartans on how to cope with Monday's shootings and what they would face in the future.
"Five years ago, I almost lost my life in school. And yesterday more young people lost their lives to this issue of gun violence in college," Aalayah Eastmond told CNN's Victor Blackwell on Tuesday. "I'm so sad that so many other communities are dealing with this issue every single day."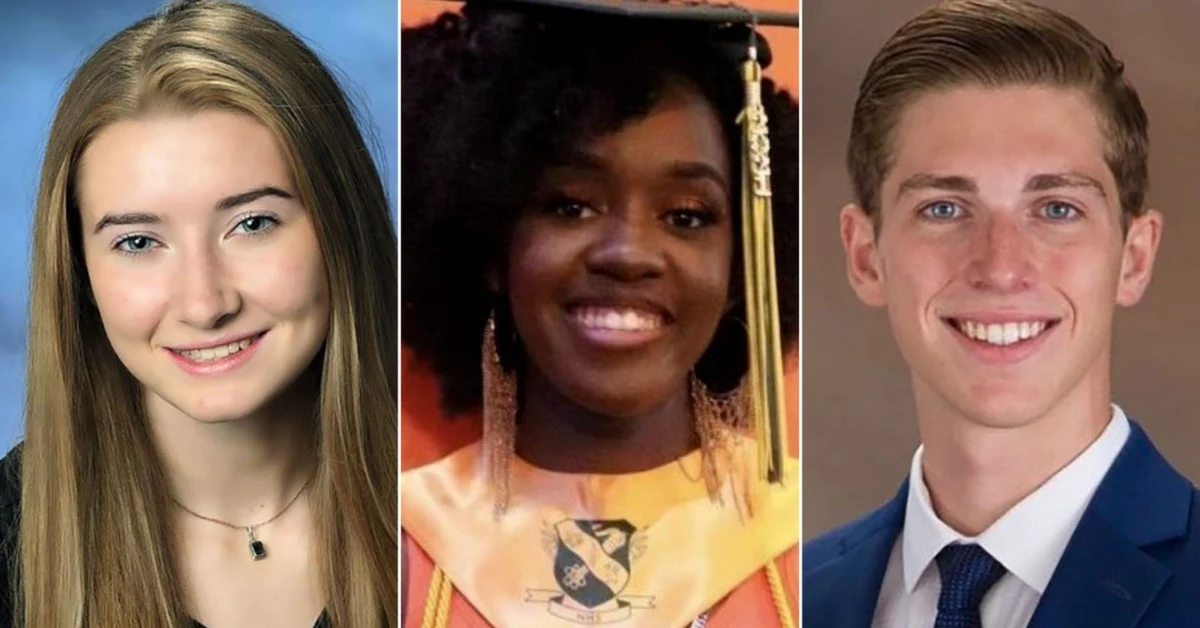 A generation that came of age amid school violence
College students fear gun violence. Studies suggest school shootings are rising, exposing more children to such horrors and millions more to the nagging fear that it could happen to them.
Every kid knows active shooter drills. Every parent worries about school drop-off. Covid-19 school closures eased anxiety. In 1999, 12 students and a teacher were killed at Columbine High School in Littleton, Colorado, and 32 died at Virginia Tech in 2007.
The 2012 Sandy Hook Elementary School shooting rocked the nation but did not shift gun reform politics. Some MSU students who survived Monday's deadly shooting also survived November 30, 2021, Oxford High School massacre 80 miles east of East Lansing.
"I never expected in my lifetime to have to experience two school shootings,"  Andrea Ferguson told CNN affiliate WDIV. Monday's victims are being remembered.
Clawson Public Schools Superintendent Billy Shellenbarger recognized Alexandria Verner, one of three deceased pupils. as "everything you'd want your daughter or friend to be." Arielle Anderson and Brian Fraser, both 2021 Grosse Point high school graduates, died.
"How is it possible that this happened in the first place, an act of senseless violence that has no place in our society and in particular no place in school," questioned Grosse Pointe Public Schools superintendent Jon Dean. "It touched our community not once, but twice."
Empty Washington rituals
The inertia around gun politics in Washington has made it a cliche to write that the capital's regular rituals of remorse and condolences followed a mass shooting without any expectation that legislators would take substantial steps to prevent it from happening again.
Last year, President Joe Biden and bipartisan senators passed the most substantial gun safety bill in decades. It failed to ban weapons and fell short of what the White House, gun control groups, and most Americans wanted. Republicans' slim House majority precludes gun control measures.
Firearms reform supporters think the Democratic sweep of the governorship and both chambers of the Michigan state legislature would allow significant legislative changes, but gun politics remain dangerous for lawmakers in swing states who want to stay in power.
At a county executive conference in Washington, Biden condemned mass shootings again, lamenting their prevalence."a family's worst nightmare that's happening far too often in this country."
"We have to do something to stop gun violence ripping apart our communities,"  Obama said, renewing his push for an assault weapon prohibition that no one believed would pass even in a Democratic Congress.
Both pro- and anti-gun control arguments are well-rehearsed. Second Amendment absolutists advocate for more guns to protect citizens and "harden" schools and universities. Many argue that mentally ill or socially isolated gunmen commit most shootings.
Republicans in Washington rarely spend the massive amounts needed to reform mental health services. Republican governors and legislatures are easing already low gun laws, making guns even simpler to get.
Given gun politics' immobility, maybe individuals should act. A disturbed gun-owning perpetrator has been linked to several previous mass shootings.
Michael McRae, the Michigan State gunman's father, claimed that after his mother died several years ago, he became a loner. Police are still investigating. "more and more bitter … angry and bitter … evil angry." The gunman's sister told CNN her brother was isolated and had a criminal history with weapons. Police stated he "had a history of mental health issues."
Despite the stalemate gun rights and gun control arguments, proactive action by loved ones and others may allow red flag regulations to seize weapons from the mentally ill. Former FBI senior officer and active shooter expert Katherine Schweit advised families to act if they notice the mental decline.
You may also like:
"We have to follow through, we have to report stuff," she told CNN's, Jake Tapper. "It's the 'see something, say something' that has prevented us from having the terrorist events in the United States. We need to do the same thing for these types of situations."
It may save lives. But it's too late for three Michigan State students who will never graduate and their fellow Spartans whose college years were marred by gun violence.