KY LOUISVILLE — According to authorities, at least five people were killed and nine others were injured when a shooter opened fire at a bank in downtown Louisville on Monday. One of the victims was a close friend of Kentucky Governor Andy Beshear.
Connor Sturgeon, 25, was the shooter; according to authorities, he worked at the Old National Bank on East Main Street, where the shooting started at 8:38 a.m. According to investigators, some of the attacks were livestreamed.
After exchanging gunfire with the shooter for three minutes, responding police officers killed him, according to acting police chief Jacquelyn Gwinn-Villaroel.
"The suspect shot at officers. We then returned fire and stopped that threat," she said. "The suspect is deceased."
The shooter broadcast some of the horrific attacks live on social media, according to Gwinn-Villaroel.
She said, "Unfortunately, it's tragic to know that that incident was out there and captured. The suspect was livestreaming." We're therefore optimistic that we can have that event cleared up.
Early Monday afternoon, four victims were named: Tommy Elliott, 63; Juliana Farmer, 45; Jim Tutt, 64; and Josh Barrick, 40.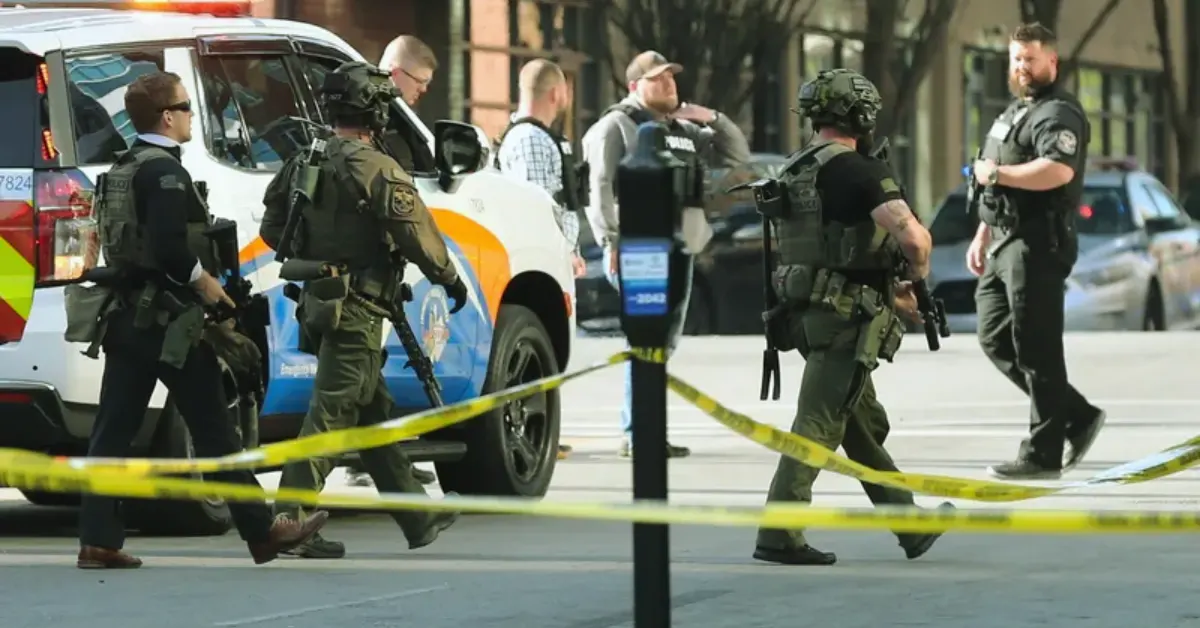 And later Monday night, police reported the passing of Deana Eckert, 57. Elliott and Beshear communicated frequently, and Beshear expressed his sorrow over his de@th.
"Today I'm hurting, and I know so many people are as well. We lost four children of God," Beshear said.
"Tommy Elliott helped me build my law career, helped me become governor, gave me advice on being a good dad. He's one of the people I talked to most in the world, and very rarely were we talking about my job. He was an incredible friend."
Officer Nickolas Wilt, 26, was wounded in the head and underwent surgery before being given a critical condition status, according to Gwinn-Villaroel. On March 31, Wilt received his police academy diploma.
"I just swore him in, and his family was there to witness his journey to become a police officer," Gwinn-Villaroel said.
According to a federal law enforcement source informed on the attack, the shooter may have had mental health difficulties.
JD Worley, the CEO of a medical device business across from Old National Bank, witnessed the injuries to two police officers. While the other appeared to be "motionless" and was dragged away by other cops, Worley recalled that one nevertheless managed to take cover and return fire.
According to Worley, the rapid shooting shattered the bank's front glass, which went from floor to ceiling.
"I mean, it felt like watching an action movie in real life," Worley told "NBC Nightly News." "But this is just something you see on the news often, but never could have fathomed I would ever see something like this happen, not only in my hometown, but right in front of my eyes."
According to officials, nine persons were transported to the University of Louisville Hospital, where three were listed in critical condition and three were discharged.
According to Louisville police, additional deaths and injuries were prevented by the cops' quick response.
"It is clear from the officers' response that they absolutely saved peoples' lives," Deputy Chief Paul Humphrey said.
"This was a tragic event, but it was the heroic response of officers that made sure that no more people were more seriously injured than what happened."
Craig Greenberg, the mayor, also commended the police for saving lives. When a shooter burst into Greenberg's campaign headquarters last year, he began to fire and missed only missing Greenberg's pullover.
"We come together as a community to work to prevent these horrific acts of gun violence from continuing here and around the state," Greenberg said. "We are a safer community, we are a stronger community thanks to the work of our law enforcement."
In the center of Kentucky's biggest city, Main Street between North Floyd and North Preston streets was clogged with police cars, ambulances, and firetrucks.
It wasn't immediately apparent if the bank had a security guard on staff.
"The safety of Old National Bank employees and everyone we serve in our banking center locations is paramount," Old National Bank CEO Jim Ryan said.
Ryan called for "keeping everyone affected by this tragedy in our thoughts and prayers."
The Louisville Bats, the Cincinnati Reds Triple-A club, play their home games at Slugger Field, where the incident occurred.
Monday, while that team was out of town, police seemed to conduct witness interviews in the stadium, which served as their operations center.
Additionally, while police were sent to the Old National Bank, some of them had to disperse to attend to a shooting at Jefferson Community and Technical College, which was only a mile away, according to officials.
According to officials, the two incidents were unrelated, and the school's courses were canceled.
Check out more related articles we are posting:
Mitch McConnell, the Republican minority leader in the Senate, and his wife Elaine Chao hailed the police on Monday for their quick and courageous action.
"Elaine and I are devastated by the news coming out of Louisville this morning," McConnell said. "Thank you to LMPD and our first responders for your bravery at the scene. We send our prayers to the victims, their families, and the city of Louisville as we await more information."
Joe Biden, the president, and Jill Biden, his wife, stated they were praying for the victims.
"Once again, our nation mourns after a senseless act of gun violence. … Too many Americans are paying for the price of inaction with their lives," Biden said. "When will Republicans in Congress act to protect our communities?"
The shooting on Monday was the most recent mass shooting in America. Two weeks prior, six individuals, three children, were shot and killed at a private Christian school in Nashville, Tennessee.
Longtime Louisville locals who remember September 14, 1989, when enraged employee Joseph Wesbecker entered the Standard Gravure printing company armed with an AK-47 and murdered eight people, were similarly upset by Monday's gunfire.
Wesbecker, 47, died at the scene from a self-inflicted gunshot wound.
Tyler is a passionate journalist with a keen eye for detail and a deep love for uncovering the truth. With years of experience covering a wide range of topics, Tyler has a proven track record of delivering insightful and thought-provoking articles to readers everywhere. Whether it's breaking news, in-depth investigations, or behind-the-scenes looks at the world of politics and entertainment, Tyler has a unique ability to bring a story to life and make it relevant to audiences everywhere. When he's not writing, you can find Tyler exploring new cultures, trying new foods, and soaking up the beauty of the world around him.