EAST LANSING —Five months before the massacre that left eight students de@d on the Michigan State University campus, two faculty members voiced their concerns to the school's administrators about the absence of door locks in campus facilities.
At a board planning meeting on September 8, Stephanie Anthony, vice chair of the Faculty Senate and the Steering Committee expressed concern about whether more might be done to improve campus safety in light of the horrific school shooting in Uvalde, Texas, in May.
The MSU Board of Trustees, then-MSU Police Chief Marlon Lynch, then-President Samuel Stanley, Jr., and then-Provost Teresa Woodruff attended the Faculty Liaison Group meeting.
"But are we doing enough? Can we do anything as an institution to ensure that our community is safer?" According to a meeting tape that Bridge Michigan has access to, Anthony reportedly inquired.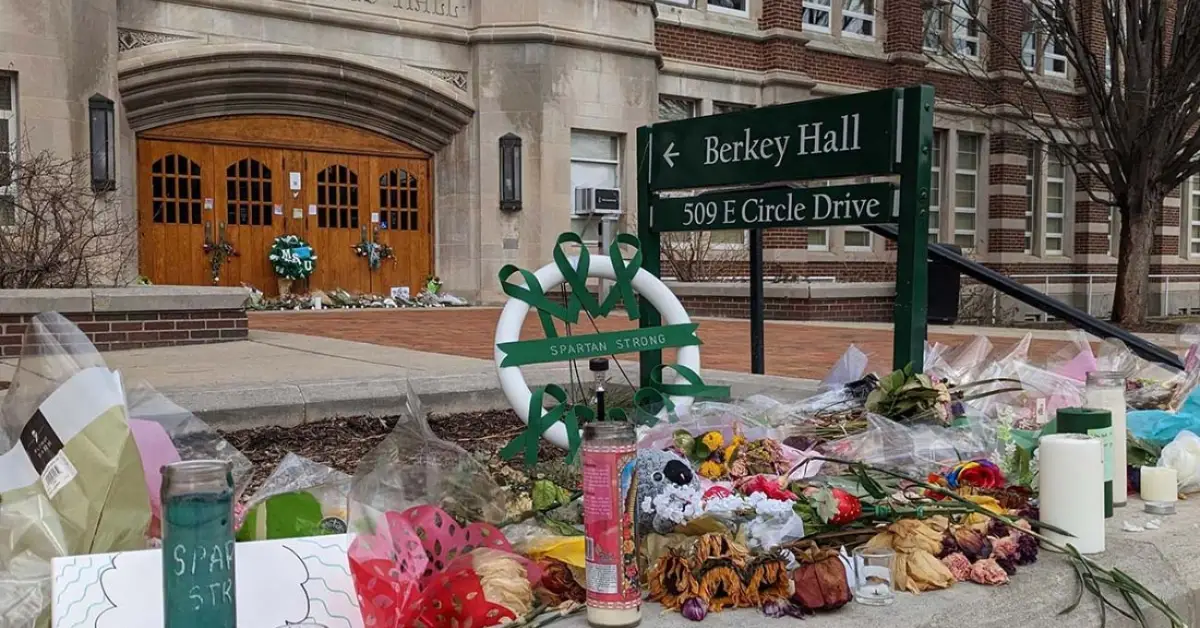 Then Anthony referred to Berkey Hall, where two MSU students would eventually die and several others would have catastrophic injuries after a shooter entered a class and started the fire. (A few minutes later, the shooter shot and murdered a third student at the MSU Union.)
"As an example, Berkey," Anthony told the group. "The doors in Berkey — I recall having been there — look the same, but they probably have changed. But as wooden doors, can they be locked? I don't know if they can be locked. Does our faculty know? Have we reviewed those types of things?"
Another professor joined in, lamenting the inability to lock doors at her place of employment, the Kresge Art Center.
Professors were given assurances at the meeting by Lynch, the police chief and vice president for public safety at MSU, that several law enforcement agencies train jointly in the event of a principal shooting.
"So, for example, if there were an incident like (Uvalde) to occur on campus, we have the ability with our access control systems to lock down buildings," Lynch said. "Although you mentioned the wood doors in Berkey, they have access control; if an incident occurs, we can lock the buildings with that."
Lynch did not particularly address classroom door locks in the recording while responding to teacher inquiries. (Yet, a time stamp on the video indicates a gap in the recording of roughly five minutes.)
After horrifying reports of gunfire in one Berkey classroom, the decision was made as to whether or not to add classroom locks.
As they couldn't lock the door from the inside, the instructor of the class admitted to Bridge that he and a few of his students tried to prevent the gunman from coming back by pulling on the door.
Lynch was not made available to respond to inquiries concerning faculty concerns at the meeting on September 8 by an MSU Police official.
Between that September meeting and the attacks on February 13, a different MSU safety official told Bridge that he did not believe in any additional discussions about putting classroom door locks.
The university's readiness and response have been criticized in the five weeks since the tragedy.
As Bridge previously reported, there was a 12- to 13-minute lag from when the authorities initially learned that there had been gunshots at Berkey Hall and when they alerted MSU students of an active shooter by an emergency alert.
Then, Anthony McRae entered the student union, shooting and killing Brian Fraser.
Authorities have also admitted that the security system at MSU did not permit them to instantly examine campus surveillance cameras. Before a screenshot of the shooter was discovered and made public, it took hours.
The guy was located by a tipster and confronted by police a few miles from school minutes after his image was made public. (Police claim that McRae committed suicide as they drew near.)
Uncertainty exists on whether university police secured Berkey Hall, the MSU Union, or any other campus structure as the shootings occurred. Officials from MSU have not yet disclosed any details on the exact time of any lockdown procedures that evening.
After exiting Berkey, the shooter could enter the MSU Union through an ostensibly unlocked external entrance at 8:24:50 p.m., or roughly seven minutes after the initial reports of a campus shooting, according to building security footage by the authorities.
According to authorities, the first campus alert was sent out around 8:30 p.m., and the second was sent out at 8:31 p.m. The shooter had already left the union by that time.
More than two weeks after the fatal shootings, MSU finally made plans to upgrade individual classroom doors with public locks. According to interim president Teresa Woodruff, MSU will finish installing about 1,300 classroom doors by this fall.
The locks would allow "instructors to secure classrooms while maintaining building and fire code compliance and allowing first responders to enter the spaces in an emergency," MSU said in a March 1 news release.
Between the faculty meeting in September and the shootings on February 13, MSU Director of Public Safety Operations John Prush told Bridge on Tuesday that he did not believe there were any discussions about installing locks on classroom doors.
Yet according to Prush, the university was evaluating ideas for setting up an integrated security system before the shootings and was thus taking "the right steps."
"I think classroom lock is a topic we must tread very carefully on," Prush added. "Because to say that could be (an) additional level of safety or security also questions how and when they're used. So, what are the policies and procedures for faculty when it comes to using that lock and keeping people out of a classroom during class?"
Prush stated that he is unsure of the supplier the school would choose for the new classroom locks but wants them to be simple to use, compatible with the door handles already in place, and keyed with brass.
The lock system should ideally include an indication that lets you know when the lock is in use. This might be light with the words "secured, " "unsecured," or green and red light. Prush added that the ideal lock would have a handle that could be depressed from the inside rather than requiring a deadbolt to open it.
Despite numerous requests for comment, Anthony, the faculty member who brought up the issue of locks at Berkey in September, did not respond.
She admitted to being in Berkey before the evening shooting on MSNBC. In that interview, Anthony said she wanted to commend Lynch of the MSU Police because he had provided information on safety precautions to professors and administrators the months before the massacre.
d'Ann de Simone, a printmaking professor, is the second academic who raised the issue of door locks in September.
De Simone, who works at the campus Kresge Art Center, encouraged university administrators to provide "greater communication about what's going on" and expressed worries about the absence of door locks in the video.
After learning that there was a security strategy in place in the case of a shooting, she expressed relief in the video.
"I had no idea, and it makes me feel better already to know that there's a plan in place because I, too, work in a building where I couldn't lock the door, and I would have no idea what to do," de Simone said.
"I'm not sure the chair of our department knows, for instance, that we could have someone come and put in place a plan in Kresge for the safety of the students and the faculty and the staff."
De Simone expressed her satisfaction with how the university administration and police have handled campus safety in an interview with Bridge on Friday. She claimed that while the classrooms she uses can be secured, they can only be done outside.
Check out more related articles we publish on this site:
Youth In Arlington Accused of School Shootings Utilized Shotgun Weapon
Denver High School Shooting Suspect's Vehicle Found Near Scene of Body Discovery
She agreed with limiting building access after 6 o'clock and "unfortunately" agreed with making faculty members undergo compulsory active shooter training.
She said Lynch and Woodruff's Faculty Senate presentation, which they gave around a week after the shootings, demonstrated their sensitivity to safety issues.
One week after the shootings, Lynch noted in a speech to the Faculty Senate that increasing security also has other implications. For instance, he pointed out that using internal locks could result in someone within a room locking the door and inflicting harm on others while law enforcement cannot enter the area.
The "components specifically of having the ability to have faculty or instructors to be able to secure a classroom that does not tend to be the best practice in higher ed, primarily due to the various types of classrooms, the volume," Lynch told the group. "We have 400 buildings."
Lynch claimed that locking "technology has evolved" and that he had discussed locking mechanisms with several vendors in the wake of the shooting.
Woodruff stated last week that she is pleading with the Board of Trustees to appoint Lynch as chief safety officer. Chris Rozman, the deputy chief, has been elevated to the position of police chief.
Patricia Gault is a seasoned journalist with years of experience in the industry. She has a passion for uncovering the truth and bringing important stories to light. Patricia has a sharp eye for detail and a talent for making complex issues accessible to a broad audience. Throughout her career, she has demonstrated a commitment to accuracy and impartiality, earning a reputation as a reliable and trusted source of news.