A new video shows Republican Representative Lauren Boebert tossing a pin in the trash, remembering a victim of last year's Uvalde school massacre.
The pin depicted green Converse shoes in memory of Maite Rodriguez, one of the 19 children slain in May 2022 at Robb Elementary School in Uvalde, Texas—the bloodiest school sh00ting since the Sandy Hook Elementary School massacre 2012.
Update: We just talked to Lauren Boebert about what the pin represents. She immediately threw away the pin and shook her head "no" when I said we hope you can take action on gun violence prevention. https://t.co/51amIYJiUx pic.twitter.com/Yh4lboUr8t

— sarah fishkind (@sarahefishkind) July 18, 2023
The pin was reportedly handed out in the halls of Congress by members of March of Our Lives, a national organization working to reduce gun violence across America, and Lives Robbed, an organization formed by the families of the children murdered at Robb Elementary, according to a Twitter video posted on Tuesday.
The video, shared on Twitter on Tuesday, shows an unidentified member of one of the organizations interacting with Boebert in a congressional corridor. The pin was made to commemorate Rodriguez, who wore green Converse sneakers on the day of the Uvalde tragedy.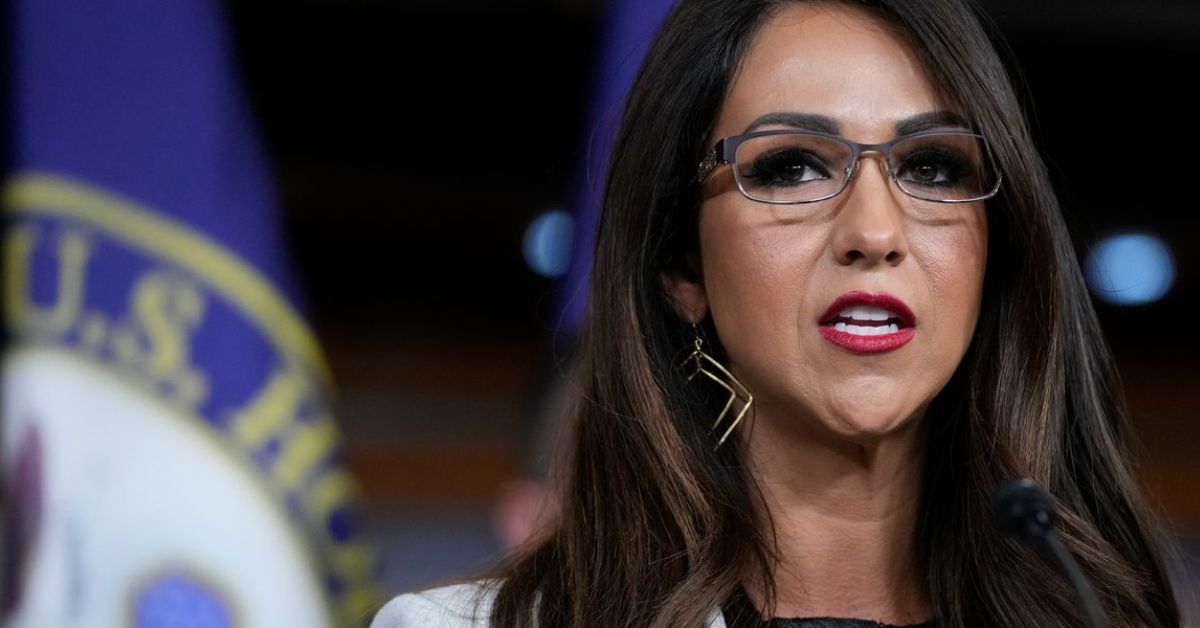 Boebert never responds to the individual, instead grabbing a piece of paper with the pin attached and throwing it in the garbage can before the video ends.
The camera then pans to the trash can, revealing the photo and pin that Boebert discarded.
"The video of Representative Boebert throwing out the pin of Maite's shoes is disgusting and beyond insulting," an email from a spokesman for Lives Robbed said. "We will not be resharing the video."
In April, Lives Robbed launched a campaign to "help get Maite's Chucks to Congress," referring to creating a pin depicting the shoes. The organization wants to protest Republican lawmakers who wear AR-15s on their lapels.
"Maite's shoes are a symbol of her beauty and strength, and as a reminder that real people are dying every day from gun violence, including small, innocent children," the group said in an Instagram post. "Instead of celebrating AR-15s, let's remember all that they have the power to destroy."
View this post on Instagram
In the aftermath of the Uvalde disaster, Boebert told Fox News's Sean Hannity that calls for gun regulation were unreasonable, noting that the United States "didn't ban planes" in the aftermath of September 11, 2001.
When informed that the United States holds only 46 percent of the world's firearms, the Colorado conservative who has promoted her pro-gun beliefs with family Christmas card images stated in February of this year that Americans "need to get our numbers up."
"ATF. Alcohol, tobacco, and firearms," the lawmaker remarked, referring to a prospective new regulation that would require gun owners to register any firearms that employ so-called stabilizing braces. "That's what we call a fun weekend in western Colorado." However, Washington bureaucrats have utilized this institution to violate the rights of the American people."
Rodriguez died when she was ten years old. Her obituary identified her as an A-B honor roll student "who enjoyed learning about animals and the ocean, especially dolphins, whales, and dogs."
She wished to study marine biology at the University of Texas A&M in Corpus Christi.
Till Then, keep yourself updated with all the latest news from our website blhsnews.com.
Tyler is a passionate journalist with a keen eye for detail and a deep love for uncovering the truth. With years of experience covering a wide range of topics, Tyler has a proven track record of delivering insightful and thought-provoking articles to readers everywhere. Whether it's breaking news, in-depth investigations, or behind-the-scenes looks at the world of politics and entertainment, Tyler has a unique ability to bring a story to life and make it relevant to audiences everywhere. When he's not writing, you can find Tyler exploring new cultures, trying new foods, and soaking up the beauty of the world around him.