Families of victims of a tragic school shooting in Nashville sobbed Tuesday, 22 August 2023, after a Tennessee Republican leader ordered state troopers to remove them and others from a legislative hearing room where they were scheduled to testify in support of gun control measures.
The emotional event was just one of numerous dramatic scenes that erupted during Tennessee's special legislative session's second day.
The scene was one of several chaotic moments that erupted during the second day of Tennessee's special legislative session. https://t.co/HPdgWbMb18

— PBS NewsHour (@NewsHour) August 22, 2023
Republican Gov. Bill Lee initially summoned lawmakers to the Capitol to discuss his proposal to keep firearms out of the hands of dangerous people.
Sobbed Sarah Shoop Neumann in front of the GOP-controlled House subcommittee room, which was cleared out after some cheering from the public gallery even though she sat quietly and wasn't holding any placards.
Neumann, a parent whose child attends The Covenant School, is one of the family members frantically trying to address the state's inadequate gun laws after a shooter opened fire inside their school, killing three children and three ad*lts. She was later allowed to return to testify in opposition to a bill allowing more teachers to carry guns at school. A House subcommittee advanced the bill, but its chances in the Senate appear to be better.
However, Lee's plan has been killed by the Republican supermajority, which has mostly refused to discuss the subject. Three versions of similar proposals for so-called extreme risk protection orders, or ERPOs, failed immediately on Tuesday, 22 August 2023, in the same House panel where the public was barred from participating.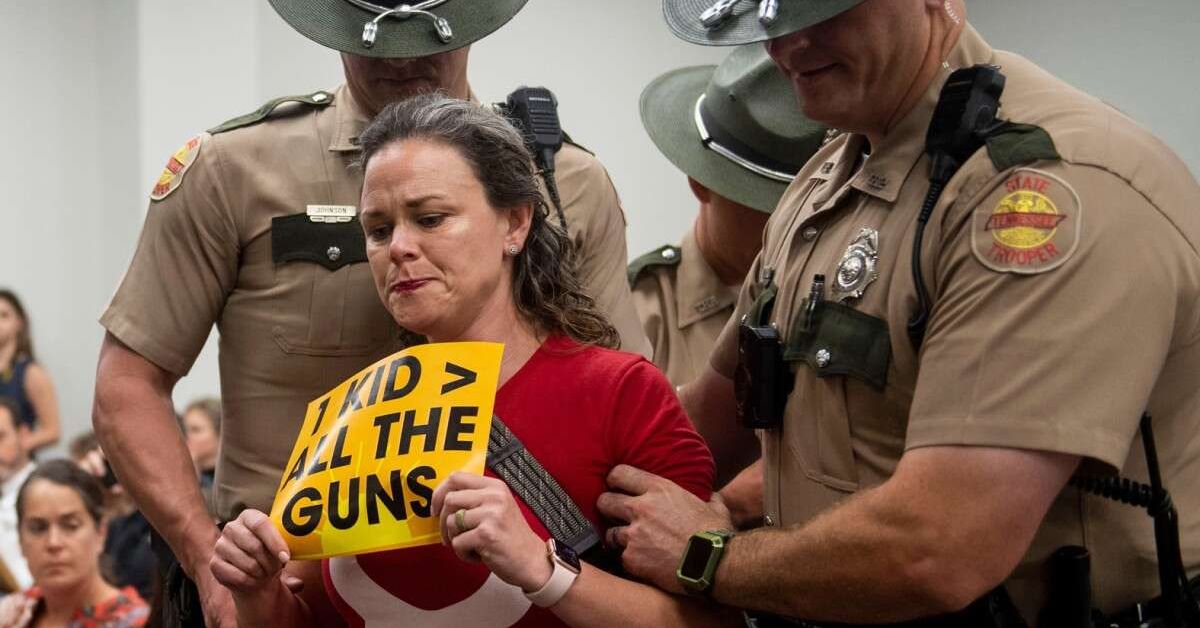 On the first day of the special session, House Republicans proposed new procedural rules that included heavy penalties for members deemed overly disruptive or distracting and prohibiting visitors from bringing signs inside the Capitol and in legislative hearing rooms.
The Senate and House also agreed to severely restrict public access to galleries where citizens have historically been allowed to observe their government in operation.
The actions come after Tennessee Republicans drew national notice earlier this year when they expelled two young Black Democratic members for violating House rules during a pro-gun control demonstration. Reps. Justin Jones and Justin Pearson have already been reinstated, but their actions raised questions about the Republican supermajority's ability to punish opponents harshly.
Protesters defied the new sign ban on Tuesday, 22 August 2023, turning to the House chamber with pro-gun control inscriptions on their bodies and clothes. Others typed messages on their phones and displayed them for lawmakers to see.
As lawmakers filed into committee rooms to begin debating bills, their resistance was met with a harsher response.
Allison Polidor, a Nashville gun control advocate, was hauled out of a courtroom because she held a banner proclaiming that "1 KID" is greater than "ALL THE GUNS."
Product 1 kid greater than all the guns shirthttps://t.co/cZ4EMXNtOE pic.twitter.com/bASJfbj38q

— Potoshirt LLC (@potoshirt) August 24, 2023
The Republican subcommittee chairman, Rep. Lowell Russell, had also threatened that he could order everyone out of the room.
Shortly after, another Republican congressman announced that his bill allowing persons with handgun carry licenses to bring guns onto K-12 and college school campuses if they knew the school did not have armed security had been halted. The announcement elicited applause from gun control supporters in the audience.
When some people continued to applaud, Russell responded, Alright, troopers, let's go ahead and clear the room. As several public members testified on legislation, media members were allowed to remain.
We warned them three or four times not to do outbursts in the committee hearing, and unfortunately, they continued after three, maybe four warnings. Unfortunately, that's how it is if they don't follow the rules. After the audience was ejected, Neumann was permitted to return to testify against the bill authorizing more armed teachers.
She claimed that the Covenant instructors' hands were trembling so terribly that day as they tried to keep the children quiet, protected, hidden, and secure that they couldn't manage a handgun. And they could not have done those things if they were also meant to be armed and go out and attack the shooter.
Conclusion:- Please stay connected with us on blhsnews.com for more articles and recent news. You should save our site to your bookmarks so you can return to read our most recent posts as soon as they become available.
If you're interested in reading about the recent news, you can check out the below links:-
Patricia Gault is a seasoned journalist with years of experience in the industry. She has a passion for uncovering the truth and bringing important stories to light. Patricia has a sharp eye for detail and a talent for making complex issues accessible to a broad audience. Throughout her career, she has demonstrated a commitment to accuracy and impartiality, earning a reputation as a reliable and trusted source of news.