The city of New York Crossing guards in New York City demonstrated with authorities on Monday morning to oppose the elimination of hundreds of positions.
There are roughly 2,200 crossing guards in New York City, but the objective is to eliminate 200 open positions and another 200 planned openings.
Under the NYPD's control, the $43 million budget for crossing guards will be reduced by $7.5 million due to the removal of those employees.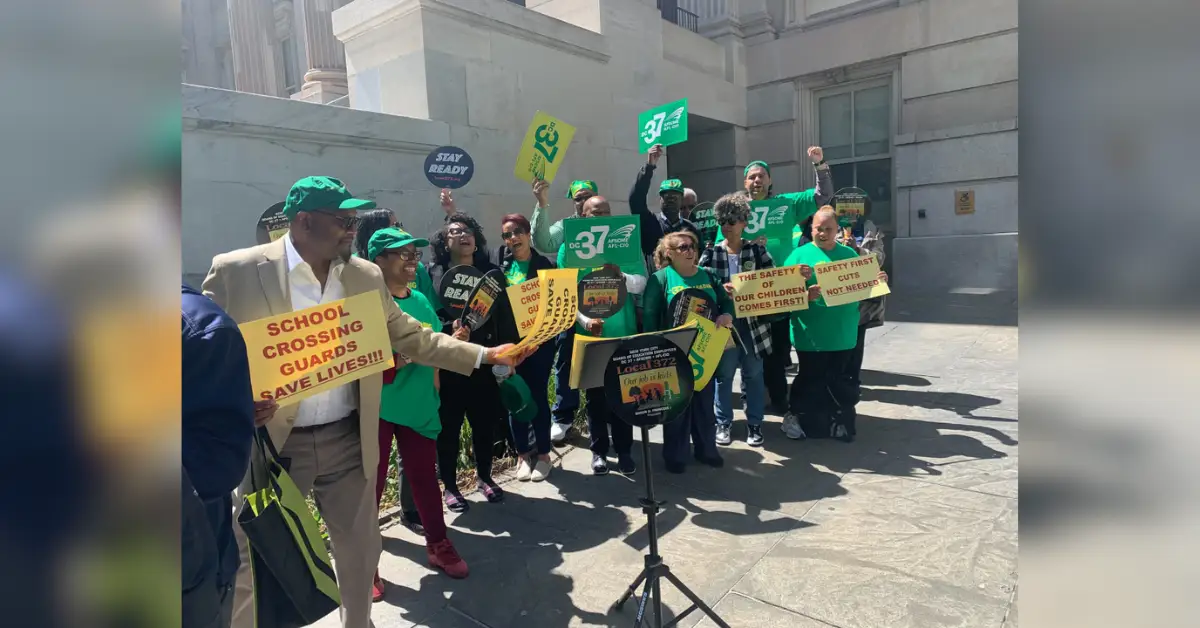 Representatives from Local 372 NYC Board of Education, representing crossing guards, DC 37, Transportation Alternatives, and other organizations, gathered outside the Tweed Courthouse in Lower Manhattan.
According to them, the roles should be filled as the crossing guards, DOE, and NYPD collaborates to protect the roughly 1 million students enrolled in the public school system of New York City.
"The City's recent move to eliminate 18% of the full-strength School Crossing Guard workforce is dangerous- School Crossing Guards play an essential role in keeping students safe on their way to and from school, and preventing traffic accidents on the perimeter of school campuses," In part, Local 372 said.
Recently, Eyewitness News shared a Tweet about to New York City school crossing guards rally to protest hundreds of cuts:
New York City school crossing guards rally to protest hundreds of cuts https://t.co/9StsitPoCg pic.twitter.com/K4BeS51Lpt

— Eyewitness News (@ABC7NY) June 5, 2023
They noted that "a study by the National Highway Traffic Safety Administration found that school crossing guards reduce the risk of traffic accidents involving children by up to 80%, especially young children."
"If you look at the budget response by the community boards the number one request is more crossing guards, number one requests, now these are community boards that are voices and representatives for our communities,"  remarked DC 37 Executive Director Henry A. Garrido.
"We need more crossing guards, not less," Shaun Abreu, a councilman for New York City, remarked. "But something that is often ignored is that crossing guards are community fixtures."
Do you know which school news is primarily searched in 2023? These are some links you can visit to learn more about:
The city employs 2,219 crossing guards. Crossing guards are paid $18 to $20 per hour for a part-time, four-hour job.
The office of Mayor Eric Adams said that filling vacant positions effectively results in savings.
"The Adams administration is laser-focused on keeping students safe – going to school in the morning, at school during the day, and going home in the afternoon,"  stated a spokeswoman.
"There is a national labor shortage and that is making it harder for lots of people to hire. We always are working to fill positions, but removing vacancies is an efficient way to achieve savings. As with any agency, if the NYPD fills all budgeted positions for crossing guards, we will work with them to increase capacity."
In addition to redesigning 1,400 intersections to make them safer, finishing hundreds of additional street redesigns near schools, and securing state legislation to switch on 24/7 speed cameras, the city also claimed that it had not fired any crossing guards.
Patricia Gault is a seasoned journalist with years of experience in the industry. She has a passion for uncovering the truth and bringing important stories to light. Patricia has a sharp eye for detail and a talent for making complex issues accessible to a broad audience. Throughout her career, she has demonstrated a commitment to accuracy and impartiality, earning a reputation as a reliable and trusted source of news.