The threat of a shooting at Heritage Middle School in Horace scared everyone involved, and court records are now shedding light on what exactly happened leading up to the incident.
James P. Donnelly, 35, was detained Thursday morning at the "Roadway Inn" on University Dr. in Fargo. Donnelly is now facing two felony terrorizing counts in connection with the threat.
The threat was reported around 7:53 a.m. on Tuesday, Aug. 28, and was handled by a West Fargo School Resource Officer.
Cass County Deputies in the Horace area, together with the West Fargo School Resource Officer, promptly responded to the school to offer protection.
In addition to Horace Middle School, deputies from the Cass County Sheriff's Office were dispatched to other remote Cass County schools as a precaution and to increase visibility. These extra measures were in place until Donnelly was apprehended.
Donnelly told authorities that a frequency asked him to shoot up a Horace middle school to get a student out of a trapped parallel dimension. He stated he was informed he needed to kill 50 pupils in order to access the link.
🚨Averted school shooting🚨

North Dakota man was told he "need to kill at least 50 students at Heritage Middle to open a portal to another dimension".

A "frequency" had been contacting him and telling him to kill students for 9 months.

He was arrested by SRO at the school. pic.twitter.com/kD5g3nyDFN

— K-12 School Shooting Database (@K12ssdb) August 31, 2023
Donnelly has been receiving transmissions for 9 months asking if he wants to have s*x with babies or manipulate mass shootings. The frequency informed him on Monday that the location was Heritage Middle School.
Donnelly claimed that he was told by the frequency that someone would provide him with the guns when he arrived and that the only reason they would provide them to him was because he acknowledged wanting to do something dark or have s*x with youngsters.
Donnelly informed the sergeant who was interviewing him that the man who was meant to give the firearms was someone Donnelly had known for a long time, dating back to when he was eight years old.
Donnelly was difficult to follow at times and appeared to be suffering from sort of mental health issues, as he appeared very paranoid, and many of his statements regarding his concerns did not seem logical.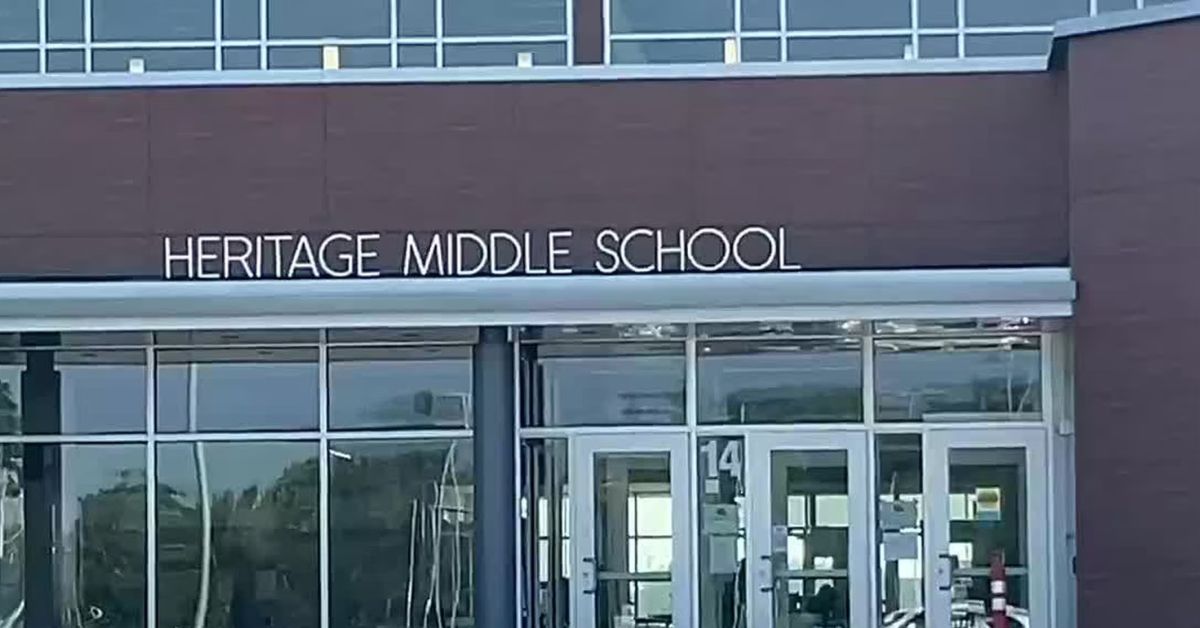 He will be subjected to a psychological evaluation, despite the fact that Donnelly recently received a "100% clean bill of psych health" from Essentia Health.
On Wednesday, August 23, 2023, Donnelly received a separate terrorizing charge for threatening to hurt his neighbor, less than a week before this threat. Police were called to an apartment for a complaint of a disturbance.
When the officer arrived, the woman was clutching a huge kitchen knife and appeared terrified, her voice shaking, according to court documents.
Check out the posts below if you're interested in reading more about the news:-
Officers were told by the woman that an upstairs neighbor, identified as James Donnelly, had kicked through the door to a shared space. When she went to investigate what was going on, Donnelly began yelling at her and the lady claims he threatened to kill her.
When authorities attempted to contact Donnelly, he allegedly yelled at them to leave and repeatedly refused to talk with them. His arrest has been warranted.
Conclusion:- For more latest updates, stay connected with us always. Check out blhsnews.com for the most recent news on your favorite stars. You should save our site to your bookmarks so you can return to read our most recent posts as soon as they become available.
Tyler is a passionate journalist with a keen eye for detail and a deep love for uncovering the truth. With years of experience covering a wide range of topics, Tyler has a proven track record of delivering insightful and thought-provoking articles to readers everywhere. Whether it's breaking news, in-depth investigations, or behind-the-scenes looks at the world of politics and entertainment, Tyler has a unique ability to bring a story to life and make it relevant to audiences everywhere. When he's not writing, you can find Tyler exploring new cultures, trying new foods, and soaking up the beauty of the world around him.