Sue (Susan Jane Stemmler), formerly Koffron 1936 – 2023 On February 12, 2023, Susan Jane Stemmler (Sue), née Koffron, passed away at her Irvine, California, home due to natural causes.
Only three months separate her passing from her husband, Robert (Bob). Sue was born in 1936 to Karl Kenneth Koffron and Marjorie Neva Padeski in Cedar Rapids, Iowa.
She was the second child of a devoted family of four daughters who, despite the presence of the second world war and the rationing that followed, enjoyed a happy childhood in Cedar Rapids.
She occasionally talked about her sisters playing at the neighboring park with their friends from the neighborhood and her father bringing her fishing.
Children were typically found playing outside back then because there were fewer toys and no television, and Sue was no exception. She, her mother, and her sisters all shared a love of good antique furniture, fashion, and home décor throughout their lives.
After graduating high school, Susan enrolled at Washington University in St. Louis, Missouri. There, she became a member of the Delta Gamma sorority, which she remained a part of until her passing.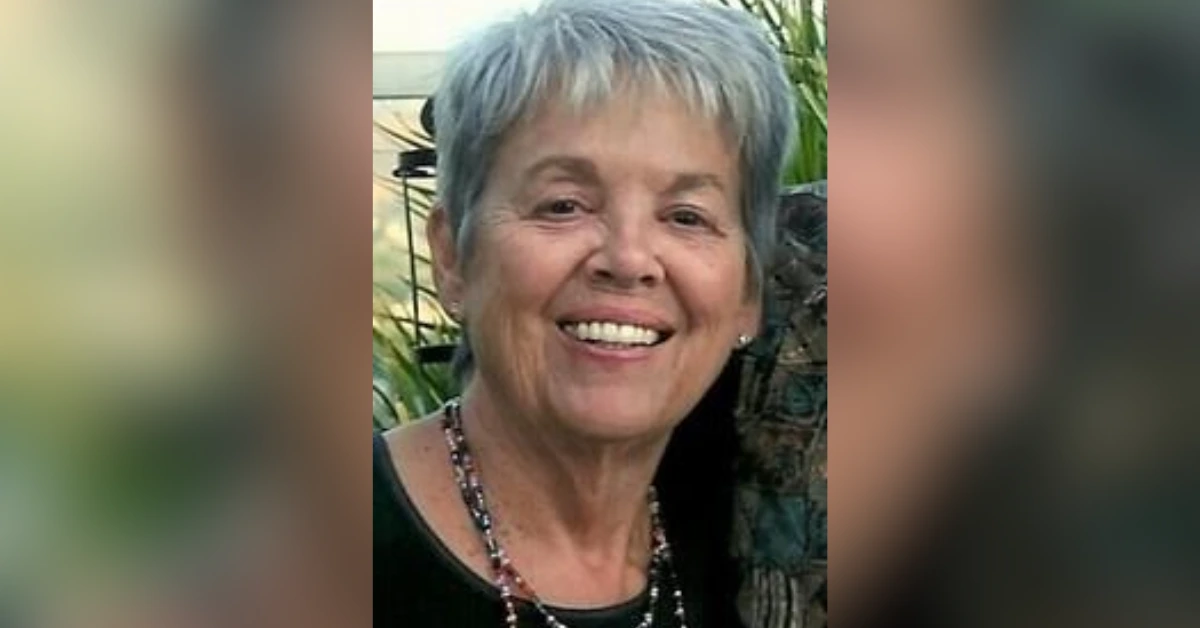 On a blind date in 1956, she went out with Robert Stemmler (Bob), and although it wasn't "love at first sight," it was incredibly close. Sue stopped attending school to work as a homemaker after their marriage in November 1957.
With the birth of their first child, Melissa (Giffin), in 1958, they relocated to Chicago, where they welcomed their second child, Karl, in 1959.
When Bob accepted a job with Celanese Company, they moved to Westfield, New Jersey, where they remained for the following 15 years, moving three times as their family expanded.
In the ensuing years, Kurt was born in 1963, Elle was born in 1969, and James was born in 1971. Friends and family were the focus throughout these years in Westfield.
Sue was an incredible, warm, loving wife and mother, a fantastic cook, a gifted seamstress, a superb hostess and vacation planner, a natural and creative interior designer, a diligent family bookkeeper, and a longtime friend to several neighborhood couples.
The family moved from New Jersey to Orange County, California, in 1978 after Bob obtained a promotion to general manager of Narmco Materials. Sue initially opposed moving, and after being persuaded to do so, she argued that she didn't want to stay for more than two years.
She ended up falling in love with California and her Villa Park home. After her daughter Melissa wed Philip Giffin in 1979, her parents welcomed Ryan Giffin into the world as their first grandchild.
Sue started making and babysitting while supporting her kids through high school and college. In 1984, a second grandchild named Alex Giffin was born. Elle's tragic de@th in a vehicle accident in 1987 left them with a terrible wound that will never mend.
It helped a little that Kurt and Jessica Bergeron were married in 1993 and that by 1998, six more grandsons had been born: Erik, Ross, and Miles Giffin, then Harrison, Garrett (Kurt), and Reid (Karl).
Ultimately, Marjorie (Kurt) and Jordyn (James), two granddaughters, and Alyze Giffin, a great-granddaughter, arrived in 2001 and 2002. (Ryan). Since then, the family has grown by four great-grandchildren: Shay (Ryan), Calen, Elle (Alex), and Mason (Erik).
The large, devoted family Sue and Bob have is precisely what they hoped! The best days were spent with family. They hosted several annual events, including birthday parties, Fourth of July barbecues and baseball games, Thanksgiving feasts, and Christmas Eve and Day celebrations.
With Sue's sisters and their families, as well as Bob's brother and sister and their families, there were also family vacations and reunions. The meetings became more extensive and enjoyable because extended relatives and friends were always invited.
Bob and Sue started taking more trips once he retired. After Bob retired, they traveled again to Europe (particularly France), as well as to Australia and New Zealand.
They had already been to Japan and Europe in addition to the majority of the states in the U.S. After retiring, they remained close for many years and genuinely loved one other's company.
They cherished going out to eat and exploring new venues. Sue spent much time and energy planning and hosting holiday gatherings, with the Christmas season being her favorite.
Even though her family had expanded significantly, she still picked and wrapped a gift for each individual. Throughout her life, she kept in touch with the families of her two sisters, Karen Ables (Richard) and Charles Bennett (James), and her husband's family.
Sue and Bob relocated to Irvine, California, in 2018 to be closer to their daughter's family. They lived there for the remainder of their "golden" years. Throughout these years, formal and casual gatherings with one or more family members were frequent.
Sue was Bob's constant and devoted caregiver until the end of his life in November of last year. Bob started to experience health issues that never went away. They shared a unique friendship that endured for more than 65 years.
Accepting their separation was challenging because it felt like they were meant to be together. Sue was incredibly kind-hearted and had a great sense of humor.
She was naturally funny and laughed a lot throughout the day. She had a wide range of interests, was a voracious reader, was a terrific conversationalist, and was constantly interested in and worried about you and what was happening in your life.
She was a late adopter of technology, but she was successful when she decided to use a laptop and a cell phone at age 81! She read the paper daily, completed a crossword puzzle daily, and had unusually large collections of oranges and hearts.
Continue reading the obituaries articles we are posting:
Despite her ravenous love of chocolate and pastries, she maintained her "ultra-petite" figure while shopping at Talbots and Brighton and was a fashion enthusiast.
Sue was a devoted sports fan who could discuss the sport with industry insiders. She never supported the Iowa Hawkeyes, Kansas City Chiefs, or California Angels.
Our lives are significantly altered and less colorful without her, and she is sorely missed.
Sue is survived by her three children, Melissa (Philip), Karl, Kurt (Jessica), and her sisters Karen Ables of Newport Beach, California, and Charles Bennett of Cedar Rapids, Iowa.
Five great-grandchildren, ten grandchildren (mentioned above), and numerous nieces, nephews, cousins, and in-laws spread nationwide. Her son James (2020), daughter Elle (1987), and youngest sister Johanna predeceased her (1944).
With the most loving and giving soul, precious mother, grandmother, great-grandmother, sister, aunt, and friend is now with her husband, daughter, and son. She, our Sue-Mom-Grandma-Gambi, will always and forever be cherished.
On February 27, a funeral and burial were placed at Fairhaven Memorial Park in Santa Ana, California. Visit the Dignity Memorial website to view it online.
Patricia Gault is a seasoned journalist with years of experience in the industry. She has a passion for uncovering the truth and bringing important stories to light. Patricia has a sharp eye for detail and a talent for making complex issues accessible to a broad audience. Throughout her career, she has demonstrated a commitment to accuracy and impartiality, earning a reputation as a reliable and trusted source of news.