Mar. 24 – Frederick County Public Schools will redistrict five middle schools in and near Frederick City.
The Crestwood Middle School expansion near Ballenger Creek, which will add 300 seats, is the cause of the redistricting.
The district attempts to balance enrollment between Crestwood and the surrounding middle schools of Ballenger Creek, Gov. Thomas Johnson, Monocacy, and West Frederick.
According to a news release from FCPS on Thursday, the redistricting may also impact the elementary and high schools in those feeder patterns.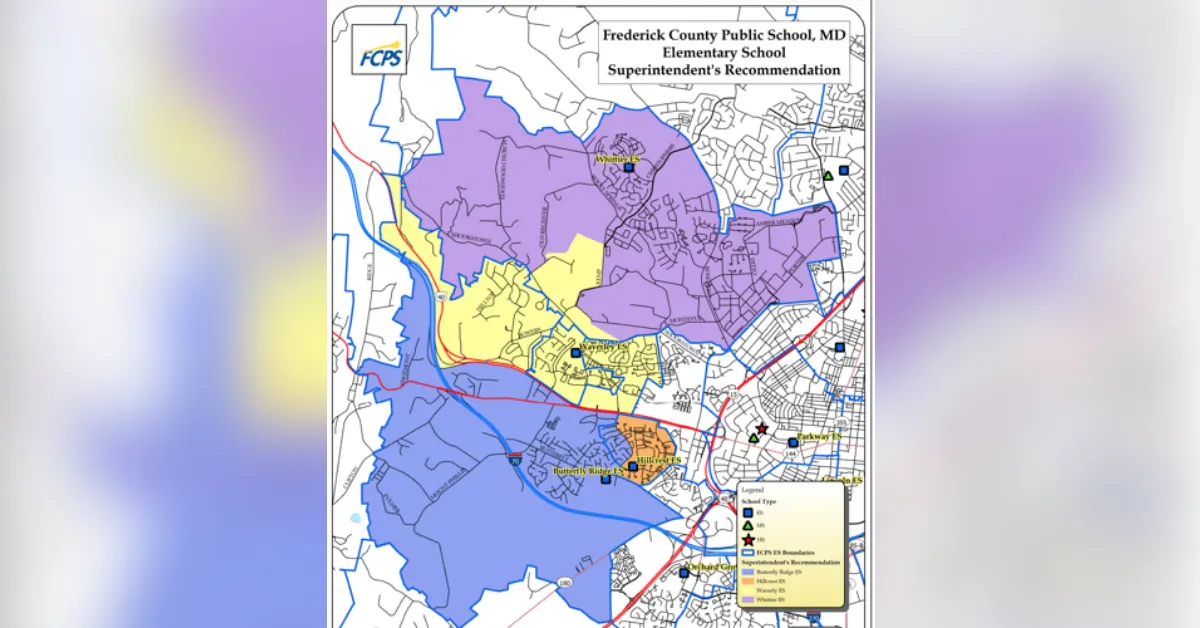 The complete list of schools whose attendance regions might change by the start of the 2024–2025 academic year is provided below:
— Ballenger Creek Elementary
— Butterfly Ridge Elementary
— Carroll Manor Elementary
— Hillcrest Elementary
— Lewistown Elementary (Monocacy Middle School feeder portion)
— Monocacy Elementary
— North Frederick Elementary
— Orchard Grove Elementary
— Parkway Elementary
— Spring Ridge Elementary (west of the Monocacy River)
— Tuscarora Elementary
— Waverley Elementary
— Whittier Elementary
— Yellow Springs Elementary
— Frederick High
— Gov. Thomas Johnson High (west of the Monocacy River)
— Tuscarora High
According to the FCPS statement, elementary and middle school attendance zone changes will try to "streamline feeder patterns."
Input from the public will be sought, according to the district, at a meeting set for April 3 at Crestwood Middle School at 6:30 p.m.
Here are more articles of school news we are posting:
According to the announcement, "anyone interested in the proposed redistricting" is welcome at the conference.
The district is now working on a redistricting study, which it expects to be finished by September.
FCPS's website contains a page with documents and information concerning the Crestwood redistricting so that community members can learn more there.
Tyler is a passionate journalist with a keen eye for detail and a deep love for uncovering the truth. With years of experience covering a wide range of topics, Tyler has a proven track record of delivering insightful and thought-provoking articles to readers everywhere. Whether it's breaking news, in-depth investigations, or behind-the-scenes looks at the world of politics and entertainment, Tyler has a unique ability to bring a story to life and make it relevant to audiences everywhere. When he's not writing, you can find Tyler exploring new cultures, trying new foods, and soaking up the beauty of the world around him.