Reggie Chaney, a former University of Houston basketball star, died unexpectedly on Monday, August 21, 2023, according to several reports. Chaney was an important part of the Cougars' teams that advanced to the NCAA Final Four in 2021, the Elite Eight in 2022, and the Sweet Sixteen in 2023.
In 2022-23, he was also named the American Athletic Conference Sixth Man of the Year. He agreed to play professional basketball in Greece and was scheduled to leave on August 28, 2023. In this article, we'll learn more about Reggie Chaney's causes of death.
Reggie Chaney Cause of Death
Reggie Chaney died in Houston, Texas on Monday, August 21, 2023. His death has not yet been officially determined. However, some think that he may have died as a result of a heart attack or a stroke. His demise stunned his family, friends, teammates, and coaches.
The news about Chaney's demise was confirmed by Jason Bristol, who shared the heartbreaking news on his Twitter handle.
Former UH basketball forward Reggie Chaney has died, @KHOU 11 News has learned.

Head coach Kelvin Sampson called Reggie "his security blanket" this past March after Chaney was named conference's Sixth Man of Year.

Chaney was just 23. No other info at this time. pic.twitter.com/WV6f4hPX7X

— Jason Bristol (@JBristolKHOU) August 22, 2023
Reggie Chaney, a former University of Houston basketball player who played and helped lead the Cougars to the Final Four in 2021, died unexpectedly Monday. He was 23 years old at the time.
Chaney played three seasons at the University of Houston, from 2020 to 2023, and was a member of the squad that reached the Final Four in 2021.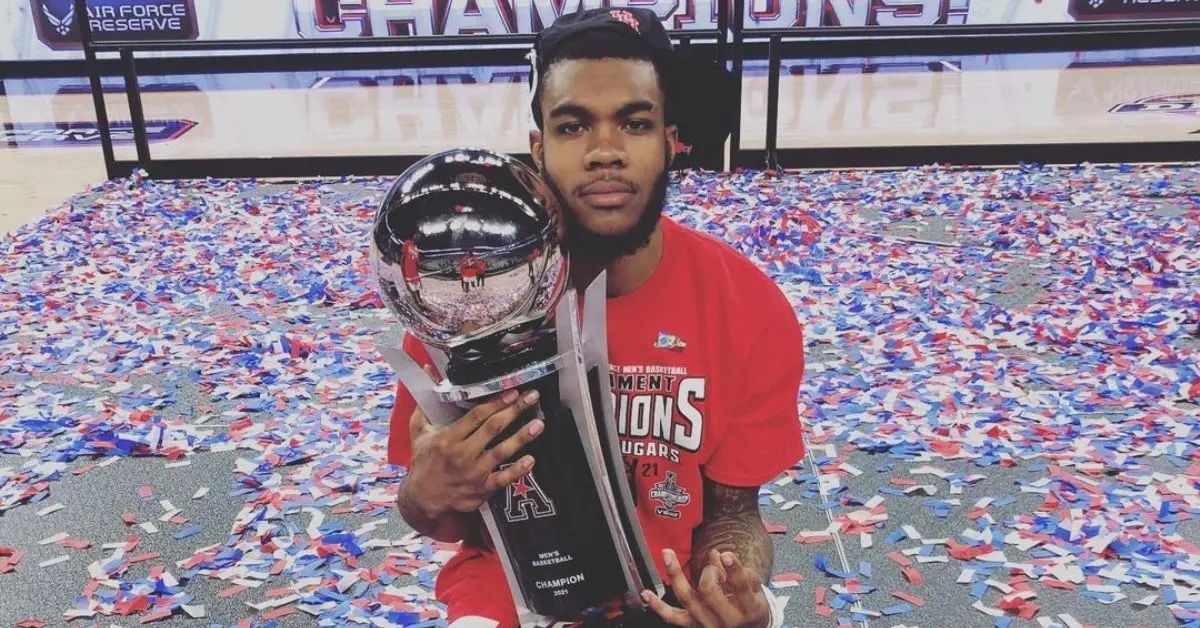 Chaney was also a member of the Cougar squad that won the No. 1 seed in the NCAA Tournament in 2022-2023. In his final season, he was selected as the American Athletic Conference's sixth man of the year. Chaney was supposed to play in Greece with the Psychiko B.C. after only graduating in May.
Coach Kelvin Sampson of the University of Houston and others in the college basketball world have expressed their condolences on social media.
We love and miss you Reggie pic.twitter.com/cYkaxCJXTO

— Coach Kelvin Sampson (@CoachSampsonUH) August 22, 2023
Reggie Chaney's Early Life
Reggie Chaney was born in Tulsa, Oklahoma, on September 6, 1999, to Reggie Lee and Chandra Chaney. He had two sisters, Aubrey Lee and Damia Chaney, as well as a brother named Carter Lee. He went to Findlay Prep in Henderson, Nevada, and as a senior, he averaged 13 points and eight rebounds per game.
Reggie Chaney Height And Physical Appearance
Reggie Chaney was a tall, lanky basketball player. He weighed 225 pounds (102 kilograms) and was 6 feet 8 inches (2.03 meters) tall. He had dark brown eyes and black hair.
He was tattooed with the words "Family First" on his chest, a crucifix on his left arm, a lion on his right arm, and the initials "RC" on his right wrist.
Conclusion:- To know details about other trending people's obituaries and causes of death, you can join us on our website, blhsnews.com.
If you're interested in reading about the recent news, you can check out the below links:-
Tyler is a passionate journalist with a keen eye for detail and a deep love for uncovering the truth. With years of experience covering a wide range of topics, Tyler has a proven track record of delivering insightful and thought-provoking articles to readers everywhere. Whether it's breaking news, in-depth investigations, or behind-the-scenes looks at the world of politics and entertainment, Tyler has a unique ability to bring a story to life and make it relevant to audiences everywhere. When he's not writing, you can find Tyler exploring new cultures, trying new foods, and soaking up the beauty of the world around him.